Before you even start reading the rest of this post, begin pitting cherries now.  Use a cherry pitter, like the one in the picture below.  Yes, it's a specialty kitchen tool, which I usually do not advocate, but quite frankly it's worth every bit of the small cost to acquire it.  A word of caution, though: after pitting a bag of cherries, your kitchen will look like a crime scene.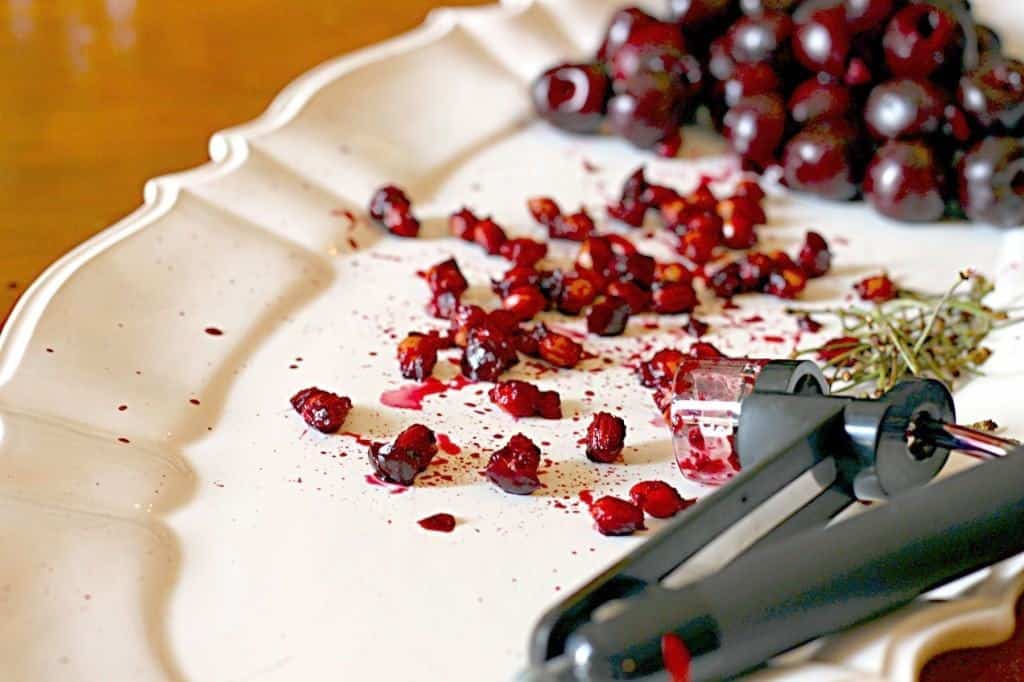 Have you begun? Okay, now we can continue.
Although it does not happen often, occasionally when I am out and about in the world I encounter a food that is completely foreign to me.  This happened to me recently, when I ordered one of my favorite drinks from the local french restaurant downtown.  A Kir Royale is usually champagne with a splash of Chambord (or other framboise liqueur) that gives it a rich, deep purple tint; this Kir Royale was different, though.
Upon its arrival, I noticed something in the bottom of the glass.  A garnish... on a Kir Royale? What could it possibly be...  I'd seen the typical lemon twist a thousand times, but this was something different.  Dark and heavy, it had already sunk to the bottom of the glass, bubbles racing away from it and bounding up toward the surface.
Of course, anything in a champagne glass is not long for this world in my hands, even if it is at the bottom.  Champagne now gone, my friends and I looked at the nearly-black mass in the bottom of the otherwise empty glass and realized... a cherry!  Out of the glass and down the hatch, I realized it wasn't just any cherry, it was a cherry that had been cooked a bit, and soaked in brandy.
According to the bartender it was an in-house maraschino cherry.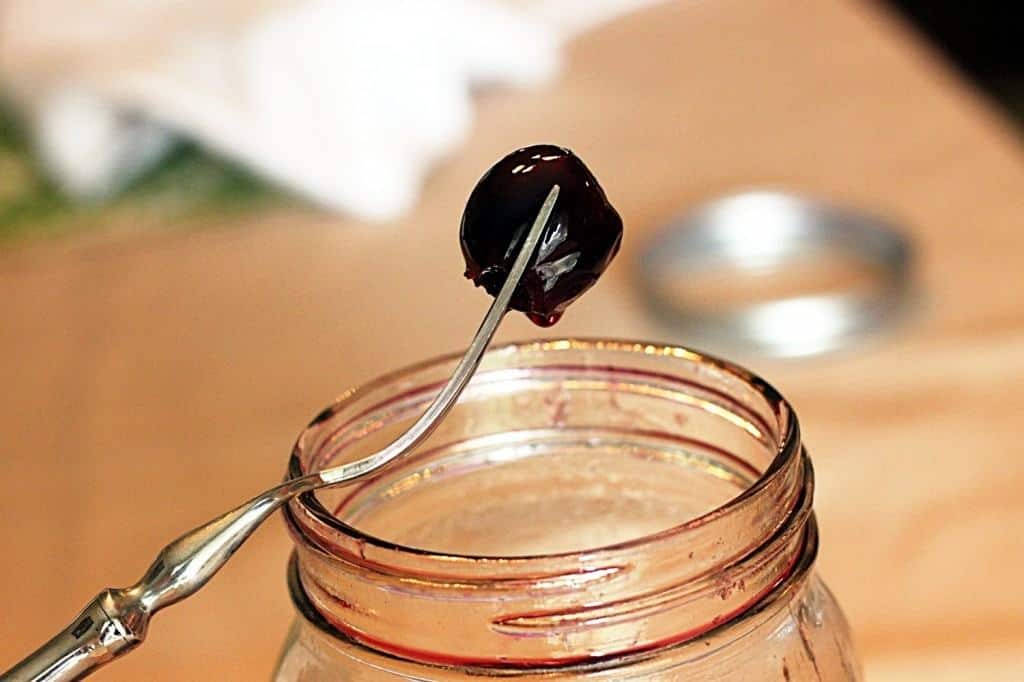 Whaaaaat?
I didn't even know such a thing was possible. This was not the tiny, bright red, rubbery, high-fructose corn syrup laden, what-might've-been-a-fruit-at-one-time jarred maraschino cherry that we have all seen in even the nicest of bars and restaurants. This was something real. This had clearly been a fresh fruit in the recent past, and was now a delectable, juicy, boozy pop in my mouth at the end of my drink.
I had no choice: I had to figure out how this was done.
I have made several batches at this point, and the following result of tweaking those previous attempts has left me with this final recipe. A note about maraschino liqueur: the two easiest brands for me to find were Luxardo and Cristiani. Luxardo is for sure the standard, but at almost $30 a bottle, too expensive to play around with in the kitchen for my budget.
Anyway, I used the Cristiani (well under $20) and it turned out wonderfully. The recipe is so simple, you'll be shocked at the delicious results.
Ingredients
3

cups

pitted cherries

1

cinnamon stick

¾

cup

sugar

¾

cup

water

1

cup

maraschino liquor
Instructions
Boil the sugar and water until all of the sugar has dissolved.

Add the cherries and cinnamon stick and let the mixture simmer for 8 to 10 minutes, or until the cherries soften considerably.

Remove the pan from the heat and add the liquor.

Once cooled, the cherries and juice (cinnamon stick removed) can be stored in a clean jar in the refrigerator for up to two weeks, although I've never even come close to reaching that deadline before they've disappeared.

The cherries are fabulous, as previously mentioned, as a garnish for a Kir Royal, but in my house we have been known to stick a fork directly into the jar straight from the fridge after dinner.