I read, I researched, I listened to your questions (and answers!), concerns, and wants. Finally, I've come up with what I believe to be the best recipe to make for the first time in your Instant Pot, AND the best real ingredient Instant Pot mac and cheese out there!
Only four ingredients are between you and cheesy, dreamy, creamy Instant Pot macaroni and cheese.
If there are any questions you have that I don't cover in this post, please ask them in the comments!

Can you cook macaroni in Instant Pot?
Yes! In fact, it is my favorite dried pasta to cook in the pressure cooker! It holds up better than the long noodle varieties and can still have a lovely al dente texture.
How do you cook macaroni in a pressure cooker?
You'll need 1 cup of water per 4 ounces of dried macaroni - so a 16 ounce ( 1 lb ) box, will require 4 cups of water/liquid. Keep reading for info on Cooking Time!
How long do you cook macaroni in the Instant Pot?
Five minutes should be just perfect. A good general rule is to cook shaped pasta like macaroni, cavatappi, bowties, etc. in the Instant Pot for half the time suggested on the box.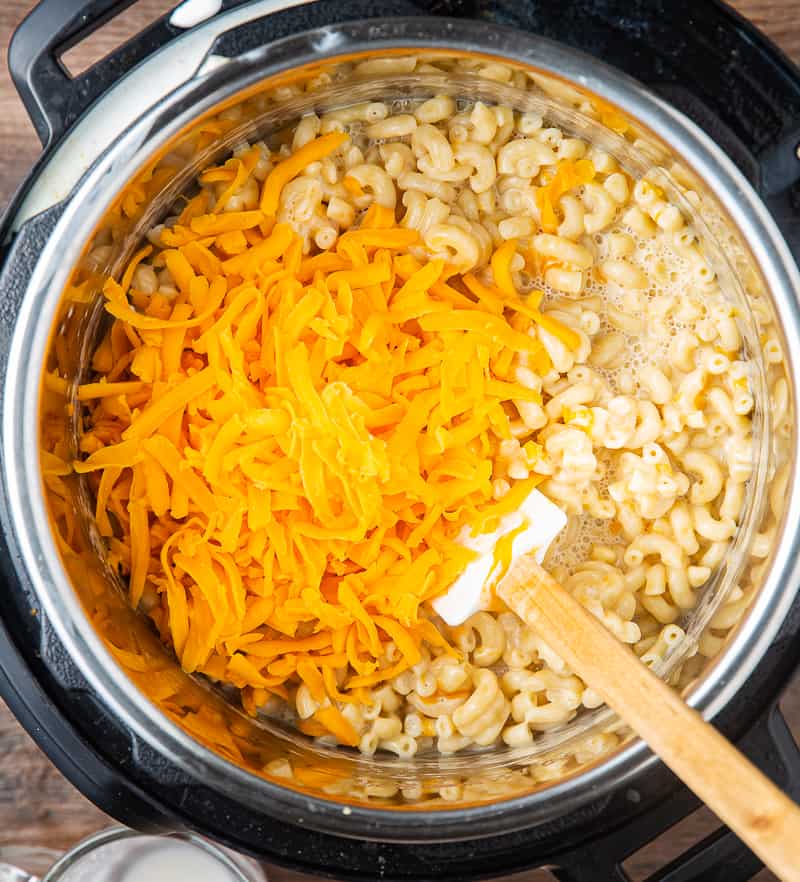 What is the best cheese to use for Instant Pot macaroni and cheese?
My recipe keeps it SIMPLE! I only use medium cheddar. This has a nice balance of sharpness, but enough creaminess to not make the cheese sauce gritty.
Sharp Cheddar WILL result in a grainy sauce. Ew.
Mild Cheddar will give you a nice creaminess, but it's a bit bland IMHO.
If you want a little extra punch, stir in ¼ to ½ cup of one of the following cheeses at the end of making the recipe:
Shredded Gruyere ( adds a tangy, woodsy flavor )
Shredded Mozzarella ( for nice, long cheese pulls in your sauce )
Shredded Pepper Jack ( to spice it up! )
If you really want that suuuuuper creamy Instant Pot mac and cheese, though, I'd recommend making the recipe below as written, substituting ¼ pound of the medium cheddar for sliced American Cheese. You can usually find it at the deli for a great price ( without having to buy a ton. )
How do you reheat mac and cheese in the Instant Pot?
I tried and tried to do this without much success. You CAN place the trivet in the Instant Pot, fill the bottom with a cup or two of water, then place the leftovers in the pot in a special container to steam them warm, but it just felt really fussy to me.
Frankly, my advice is to reheat mac and cheese in the microwave or oven instead.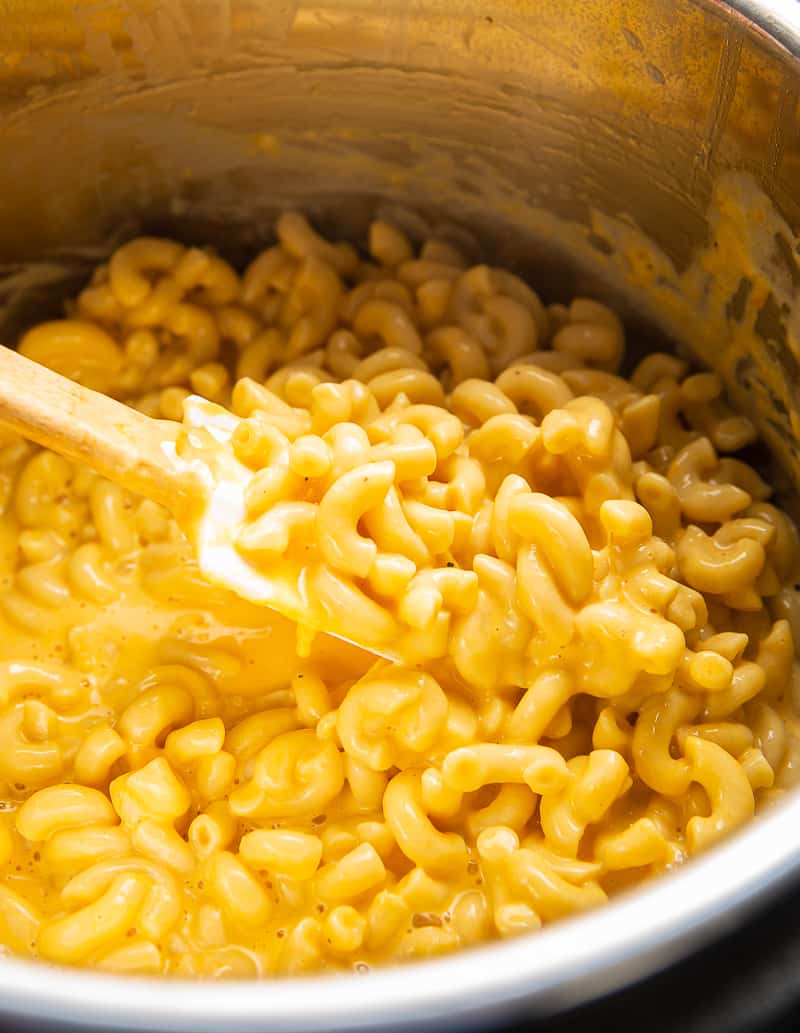 The texture of this recipe will change slightly after reheating - going from a purely creamy sauce to more of a cheesy baked style once reheated, but I LOVE that! If you want that creamy texture, add a little bit of cream ( 1 tablespoon at a time ) to the reheated leftovers until you get the creamy sauce back together.
How to make Instant Pot Mac and Cheese:
The overall method is simple - I go into much more detail in the recipe below if you need it though!
Cook 1 lb of macaroni at high pressure for 5 minutes.
Quick Release the steam.
Open the lid immediately and stir the pasta and remaining water. DO NOT DRAIN THE WATER. It helps make the creamy sauce!
Add the cream and salt and pepper. Stir to combine.
Add ⅓rd of the cheese and stir to combine.
Repeat until all cheese is combined and serve!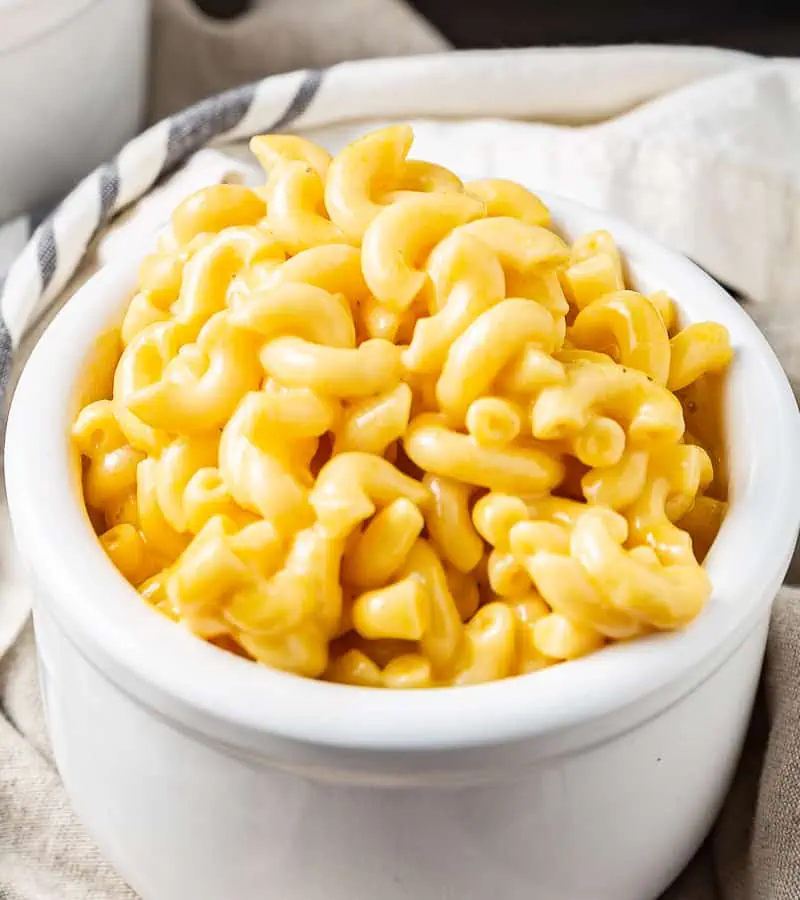 Other great, easy Instant Pot Side Dish Recipes:
Instant Pot Mashed Cauliflower
Instant Pot Black Beans
Instant Pot Butternut Squash Soup
[oih_opt_in id="3"]
Instant Pot Mac and Cheese
The easiest way to make delicious macaroni and cheese in the Instant Pot using REAL ingredients.
Recipe from basilandbubbly.com
Print
Pin
Rate
Ingredients
1

lb

macaroni

dried

4

cups

water

1

teaspoon

salt

¼

teaspoon

ground black pepper

1

lb

medium cheddar cheese

or mild cheese. Freshly shredded from a block, NOT pre-shredded.

1

cup

heavy cream

also called heavy whipping cream
Instructions
Add the macaroni and 4 cups of water to the insert of the Instant Pot. Stir well.

Place the lid on the Instant Pot and twist it to lock. Push the vent valve to "Sealing"/ closed.

Set the pot to Manual for 5 minutes. Your model might also say "Pressure Cook" instead of Manual.

It should be set to High Pressure automatically, but it can't hurt to verify that the little light under High is lit up just in case.

After 5 minutes, carefully open the vent valve. There will be a LOT of steam escaping!

I like to use the handle of a wooden spoon to do this and avoid the rush of steam.

Once all the pressure as released, the pin next to the vent will drop, and you can open the pot.

DO NOT DRAIN THE WATER FROM THE POT.

Stir the pasta and any remaining water to break up any pieces of pasta that are stuck together.

Add the salt, pepper, and cream to the pot. Stir to combine.

Add one third of the shredded cheddar to the pot. Stir until it has all melted into the pasta and cream.

Stir in another third of the cheese until it has melted.

Finally, add the last of the cheese and stir until it has melted and Serve!
Nutrition Facts
Instant Pot Mac and Cheese
Amount Per Serving
Calories 301
* Percent Daily Values are based on a 2000 calorie diet.
If you love Mac and Cheese, you might also love these recipes: