You're here for one of two main reasons: Someone gave you / you found at Whole Foods / you bought at some tourist trap something called "Carolina Gold Rice", OR you're wondering... can RICE really be delicious?  I mean, we all know rice is good ... but can it be ... spectacular? heart-warming? life-changing?
Yes. Yes, it can.
Carolina Gold Rice.  I walked by it a MILLION times in the grocery store living in South Carolina without ever considering making an actual purchase.  It was stuff for tourists.  Some gimmick.  Oh, and it's expensive.  I mean, who in their RIGHT MIND would pay over $6 for less than a pound OF RICE?!
As it turns out ... I would.  A few years ago I became really interested in learning about different grains, particularly those from South Carolina and the South in general.  Along with learning about those grains, I learned about how we changed them for mass production, and how many of the traditional recipes and cooking methods fell by the wayside in the process.
So I decided to bring them back, even if in my own kitchen only.
But now it's time to share.  If you are asking yourself, even for a second, "Could rice ever be amazing? The star of the meal? Company worthy? Holiday worthy?"  then you need to try this method.
If you don't live in South Carolina, where Carolina Gold Rice is readily available in pretty much every grocery store, not to mention the City Market and other tourist traps, you can and should buy it from Anson Mills here:
Carolina Gold Rice
That's not an affiliate link. I make no money if you buy it from there.  I just think it's really really worth it to try. They do have a minimum order, so you might as well throw some grits and benne seeds in your bag while you're at it.
But anyway, the rice.   MAKE THE RICE.  And report back in the comments. And spread the word.  Because everyone should know that rice used to be good and still can be rich, flavorful, and amazing.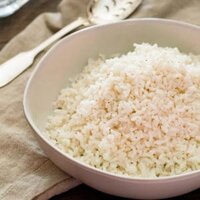 Carolina Gold Rice
How to make absolutely perfect Carolina Gold Rice the traditional way.
Print
Pin
Rate
Ingredients
6

cups

water

½

Tablespoon

salt

1

cup

Carolina Gold Rice

2

Tablespoons

salted butter

½

teaspoon

black pepper

2

Tablespoons

chopped fresh herbs

optional
Instructions
In a large stock pot, bring 6 cups of water to a boil with the salt.

While the water is coming to a boil, preheat the oven to 350 degrees F and prepare a baking sheet by lining it with parchment paper or foil.

Add 1 cup of Carolina Gold Rice to the water and stir. Bring the water back up to a boil, then reduce to a simmer.

Simmer between 12 and 15 minutes, or until the rice is tender. If you are really using Carolina Gold Rice, it will take about 15 minutes. If you've decided to ignore the instruction to use this very specific, very special rice, you'll only have to boil it about 12 minutes.

Drain the rice in a colander or fine mesh sieve and rinse thoroughly with cold water.

Spread the rice onto the prepared baking sheet. Bake the rice for 5 minutes.

Remove the pan from the oven and dot the rice with 2 Tablespoons of salted butter and sprinkle the black pepper over it. Bake for 5 more minutes.

Stir to combine the melted butter, pepper, and rice, and serve immediately.
Notes
Mix the fresh herbs in after the final roast of the rice. I love a mix of fresh basil, thyme, and parsley.
USE YOUR LOGIC when rinsing the rice. A colander with ½" holes is NOT suitable for straining rice. All of the rice will strain out with the water! Pick a colander with small holes!