Ahhhh, mimosas. It's high time we talked about what really matters in this life: things related to champagne.  The mimosa is the quintessential champagne drink - an acceptable morning beverage or brunch cocktail, loved by college kids and moms alike.  And it could not be easier to make!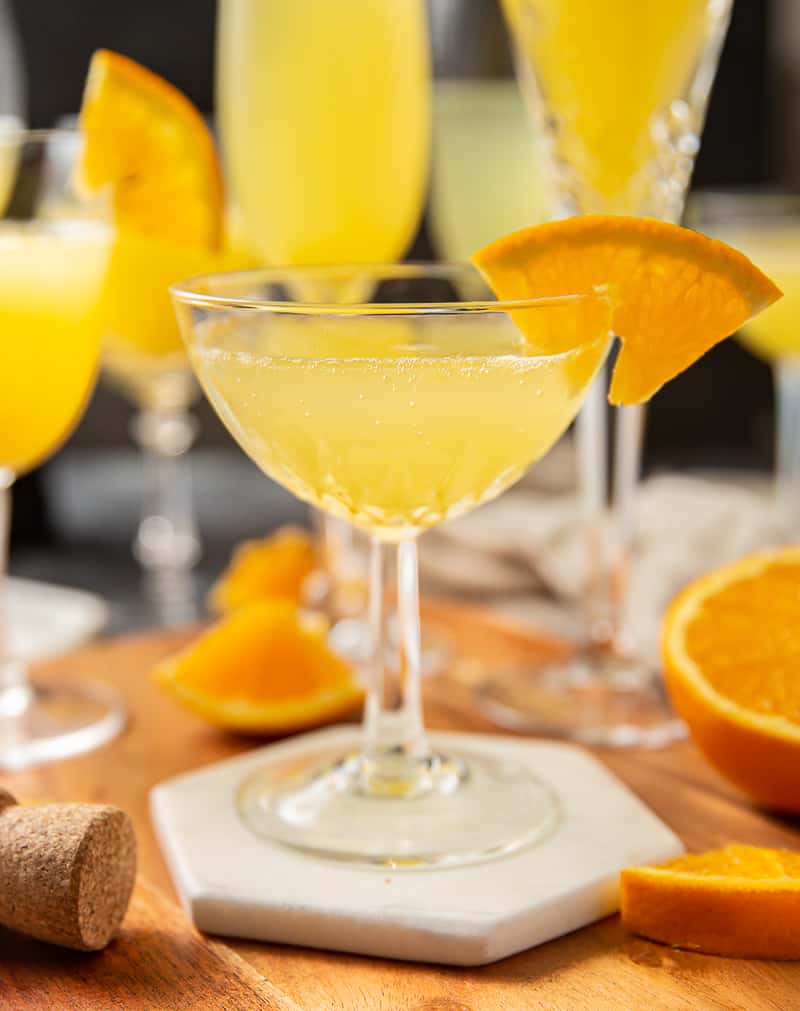 However - it can go very very wrong.  So let's answer all the questions you might have, to make sure you get it RIGHT.
What is the best champagne for mimosas?
When you are looking for a mimosa champagne, the very first thing to know is that you might not want to actually use champagne at all!   A cava or prosecco mimosa is much preferred!
Why not use champagne?  
Well, for various reasons, it's generally more expensive than prosecco and cava.  And the mimosa is NOT the time to flex your champagne collection.  Frankly, when I see anyone make a mimosa with a bottle of bubbly that cost more than $15ish dollars, I think they're out of their mind.  
I swear if I see one more person make a Veuve Clicquot mimosa I'm going to jump through the screen and strangle them.
It's a waste.  The orange juice covers the nuanced flavors and weighs down the delicate bubbles of good champagne.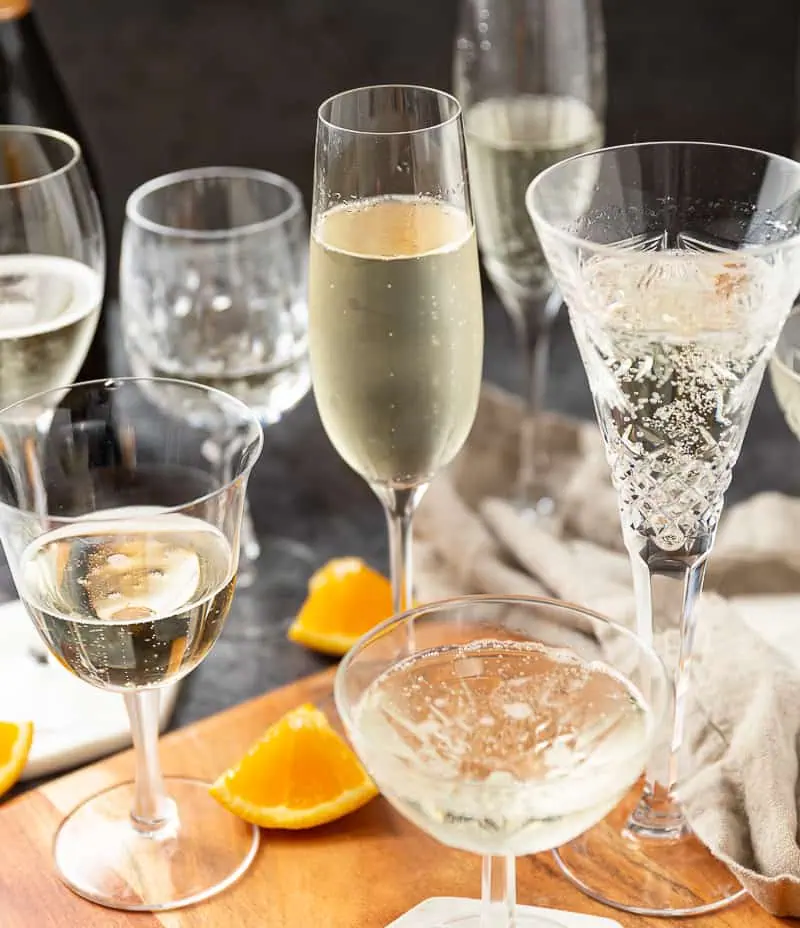 So what SHOULD you use then? A Brut or other dry bubbly.  Don't be fooled if the label says "Extra Dry" ... that actually won't be what you want. Look for BRUT!  OJ has enough sweetness to it, and if the wine adds more, it will be too sugary, plus you'll feel terrible tomorrow after all that sweet.  If you want to learn more about bubbles, check out my Champagne Primer! 
These are my picks for prosecco mimosas and cava mimosas ( prices are based off of what was listed on the Total Wine website at the time of publishing):
Segura Viudas Brut (Cava) $10
Rondel Brut (Cava) $8
Freixenet (Cava) $10
Ruffino (Prosecco) $10
La Vostra (Prosecco) $9
And while we're at it, let's talk about everything you might put in a mimosa: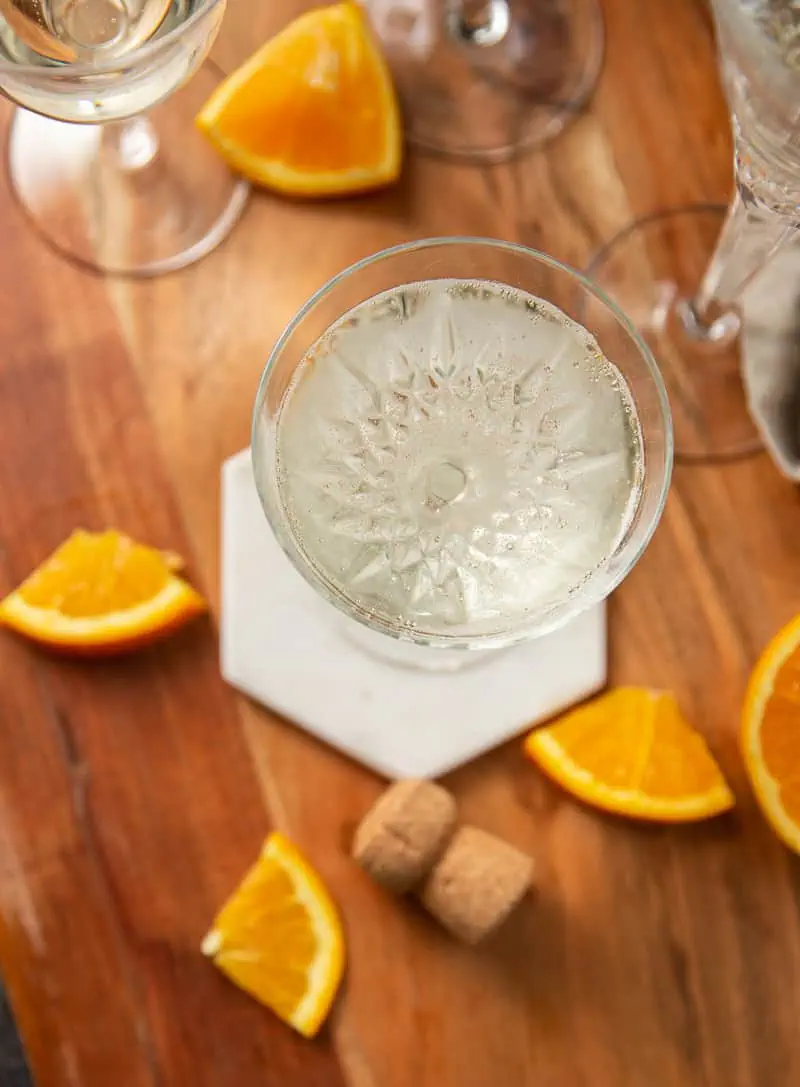 A little bit about mimosa ingredients
A mimosa is a sparkling wine cocktail with any citrus juice in it.  Orange juice has historically been the most prolific, but grapefruit juice is also a wonderful choice.  I highly encourage you to be creative, and even move into bellini territory, by adding peach juice.
Whatever juice you use, make sure it is of the highest quality.  My recommendation is freshly squeezed immediately before serving, but I do understand that isn't always possible, particularly when planning for a large event where there will be other considerations beyond just the juice.  Given that...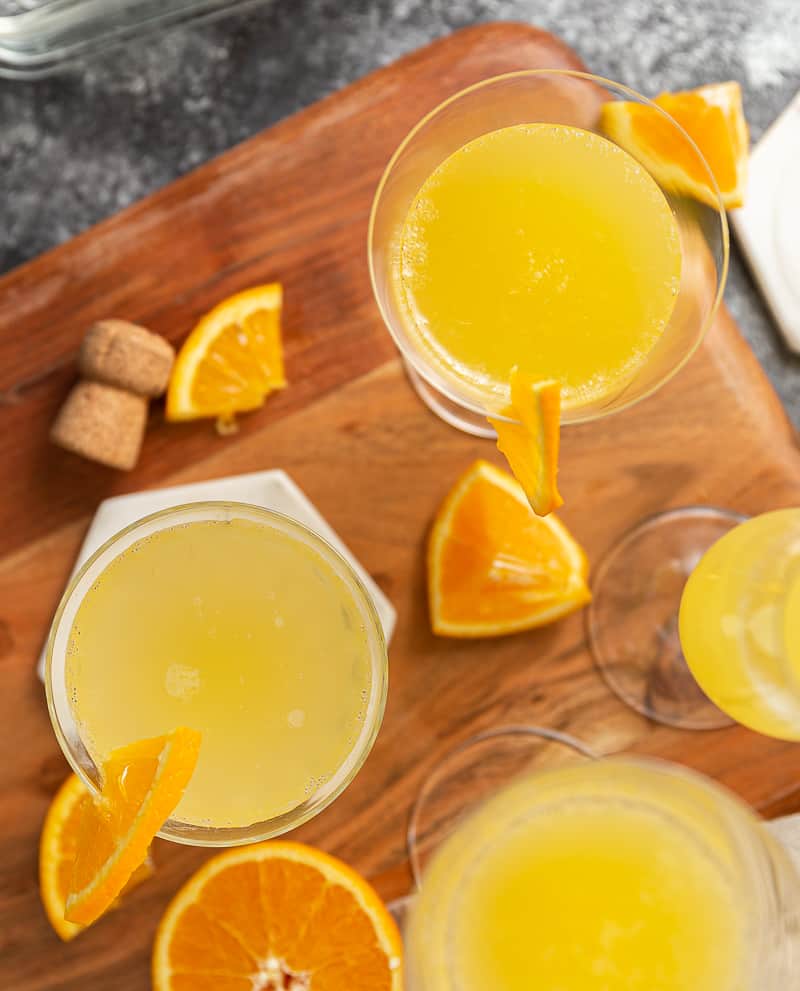 Best Premade Juice for Mimosas
These are my favorite orange juice brands for mimosas, in order of how much I love them:
Natalie's Orchard Island Juice Company Orange Juice ( also makes wonderful grapefruit juice )
Indian River Select Valencia Orange Juice
Trader Joe's Fresh Squeezed Orange Juice
Mimosa Ratio
Technically, it should be 1:1 -  1 part juice to 1 part sparkling wine.  For me, that is wayyyy too acidic on the juice front and I believe the perfect mimosa ratio is closer to 1:4 - 1 part juice to 4 parts sparkling wine.
[oih_opt_in id="3"]
If you like mimosas, you might love these other brunch cocktail recipes:
How to Make a Mimosa
The perfect brunch cocktail - a prosecco mimosa or a cava mimosa is sure to bring your brunch to the next level.
Guide from basilandbubbly.com
Print
Pin
Rate
Ingredients
4

ounces

chilled prosecco or cava

read above to see which brands I prefer

1

ounce

good quality orange juice
Instructions
Pour the chilled sparkling wine into a champagne glass. Carefully top with orange juice. If you pour quickly, the glass may bubble up and overflow, so go slowly!