Everything you ever wanted to know about how to cook spaghetti squash the quick way - including how to cut it easily, get the good long strands, and what to do with the seeds!

How to cut spaghetti squash for long strands?
The first time I ever made spaghetti squash I was really disappointed by the short little strings. I wanted that spaghetti-like twirl on my fork! If you are like me, and want those long pasta-like strands, cut your squash across and NOT lengthwise. Cutting the squash across means you'll have a stem at the top of one end of cut squash, and the butt of the squash at the other end. Cutting the squash lengthwise means you'll have half a stem and half a butt on each piece of squash.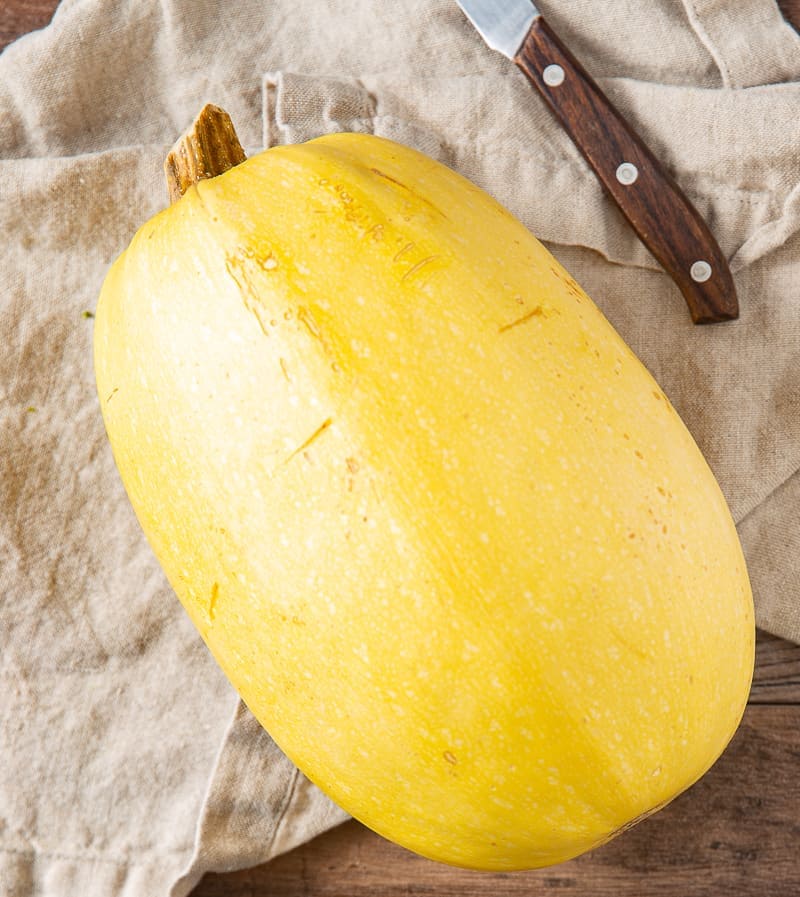 What is the easiest way to cut a spaghetti squash?
The absolutely easiest way to cut spaghetti squash is to have someone else do it for you. You can absolutely ask someone in the produce department to cut the squash for you before you leave the store. They won't charge, and you get to keep all of your fingers.
Already home with a massive squash staring you down, waiting to be cut???
Pro Tip: Microwave spaghetti squash before cutting
CAREFULLY stab the spaghetti squash 4 or 5 times with a sharp knife, making sure the knife slices at least 1/3 of the way down into the squash. This is what creates an outlet for steam to escape the middle of the squash and prevents any microwaving mishaps.
Then, place the whole squash directly on the microwave turntable and microwave at full power for 4 minutes. Let the squash cool off for a minute or two before removing it from the microwave and cutting it in half.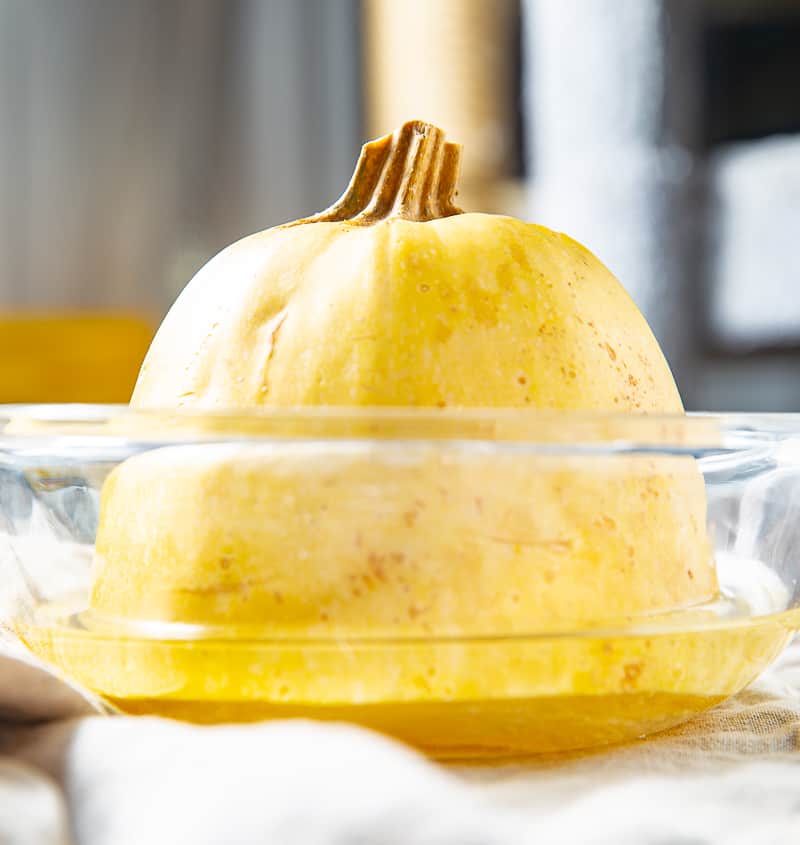 Will spaghetti squash explode in microwave?
If there's one thing I've learned, it's never say never. However, if you follow my directions, it is highly unlikely that your microwave will turn your spaghetti squash into a violent squash fireball projecting through your kitchen. A KEY PART of this is to stab the squash with a knife several times to allow the steam to escape.
Remember: Only YOU can prevent spaghetti squash microwave fires.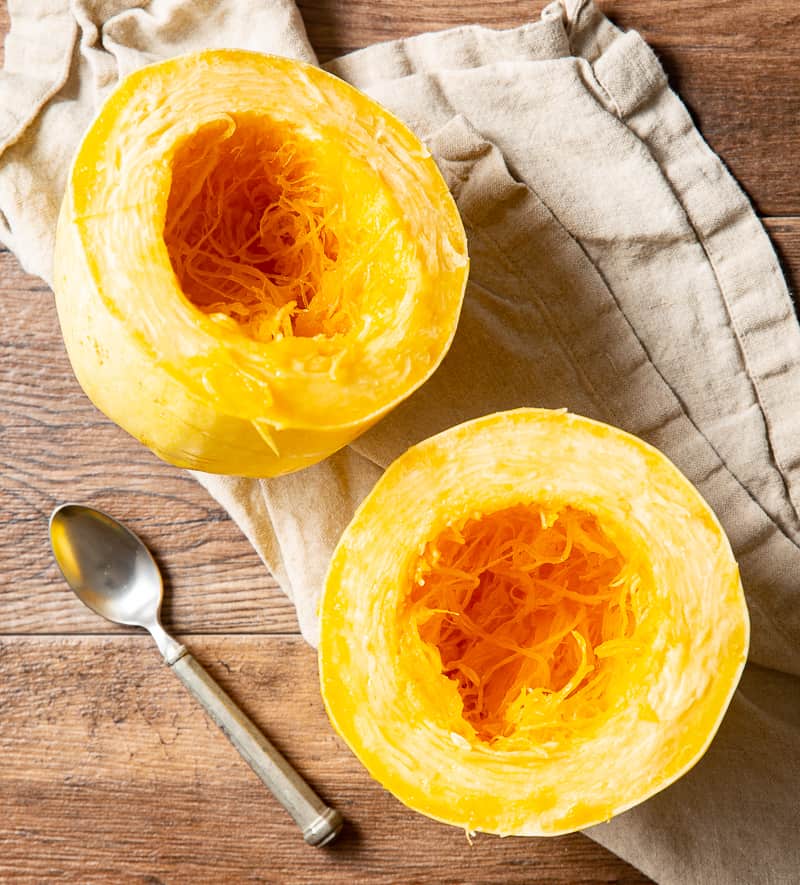 How do you cook spaghetti in the microwave?
Several simple steps, but they are ALL important:
Stab the squash several times with a knife
Microwave the whole squash to soften it slightly for cutting
Cut the squash in half
Place one half of the squash in a microwave safe dish. Pour water into the dish until it comes up about 1" around the base of the squash.
Microwave until the exterior of the squash has visibly softened and the interior is easy to scrape "spaghettis" out of. Approximately 14 minutes for a medium to large squash.
How long to cook spaghetti squash in the microwave?
Spaghetti squash can vary wildly in size. The larger the squash, the longer it takes to cook. Luckily, there's no harm in throwing the squash right back into the microwave if it isn't cooked enough the first time, and hard squash is pretty forgiving in the microwave and hard to overcook.
The following times are for cooking ONE HALF OF A SQUASH at a time and may vary based on your microwave power, but are a good rough start:
Small Squash: 10 minutes
Medium Squash: 13 minutes
Large Squash: 16 minutes
Extra Large Squash: 18 minutes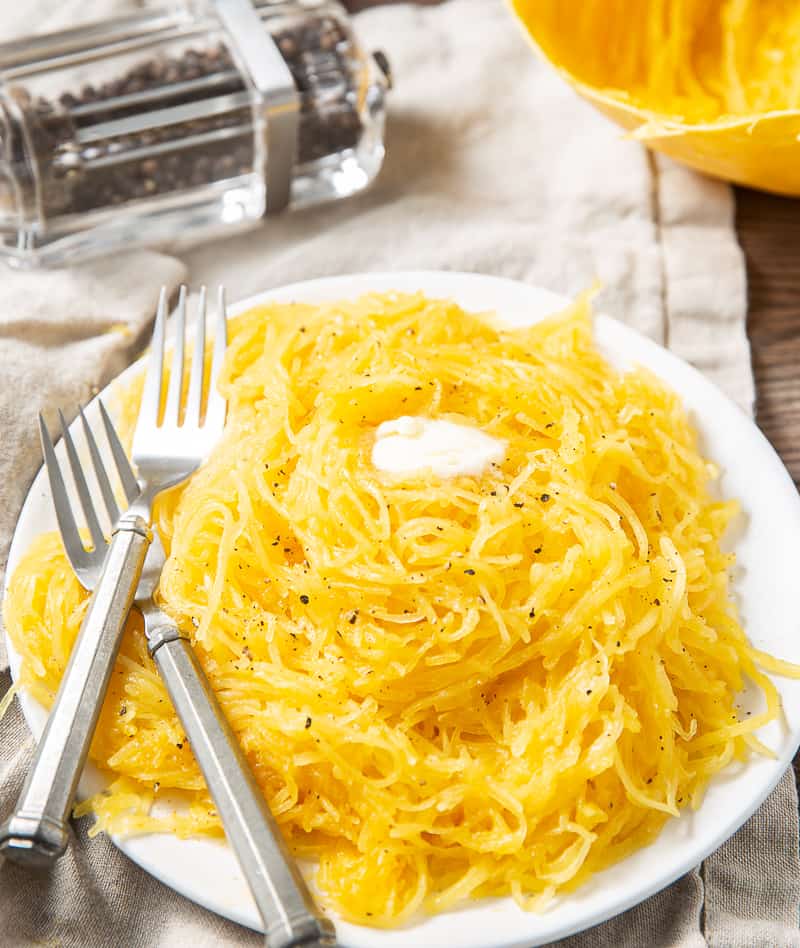 Can you eat spaghetti squash seeds?
Yes, yes, yes. Prepare them exactly like pumpkin seeds! Here are some of my favorite things to do with squash seeds:
If you like this method for how to cook spaghetti squash in the microwave, you might also like:
Love this recipe?
Sign up to receive a FREE eBook of deliciously easy boneless, skinless chicken breast recipes.
Enter your email address below and we'll send you the eBook, plus one email a week with the latest recipes from Basil & Bubbly.
How to Cook Spaghetti Squash in the Microwave
An easy way to cut, cook, and serve spaghetti squash. Perfect as a base for other recipes, or all on its own.
Recipe from Basil & Bubbly ( https://basilandbubbly.com )
Print
Pin
Rate
Ingredients
1

medium

spaghetti squash

4 - 5 lbs
Equipment
Microwave

Microwave Safe Dish

Sharp Knife
Instructions
Place the squash on a kitchen towel (to prevent slipping) on a hard surface. Stab the squash 5 - 6 times with a sharp knife, making sure to pierce the exterior flesh and down into the cavity of the squash

Microwave the squash for 4 minutes to soften it. Allow it to cool off in the microwave until it is cool enough to handle.

Carefully cut the squash across the width so that you now have two pieces of squash.

Place one half of the squash into a microwave-safe dish and pour water into the dish until it covers about 1" of the base of the squash.

Microwave for 12 - 18 minutes, based on the size of the squash. Smaller squash should be done after 12 minutes, and very large squash may take up to 18 if not 20.

Squash is ready when the flesh starts to look soft, slightly darkens, and the interior can be easily scraped into shreds.
Nutrition Facts
How to Cook Spaghetti Squash in the Microwave
Amount Per Serving
Calories 84
* Percent Daily Values are based on a 2000 calorie diet.
Notes
There are tons of great recipes for spaghetti squash, but my favorite way to eat it is exactly as written above, with a pat of butter and some fresh cracked pepper on top.