This honey garlic shrimp and broccoli recipe is a great alternative to ordering takeout! Serve over rice or noodles for a complete meal that gets on the table faster than ordering delivery.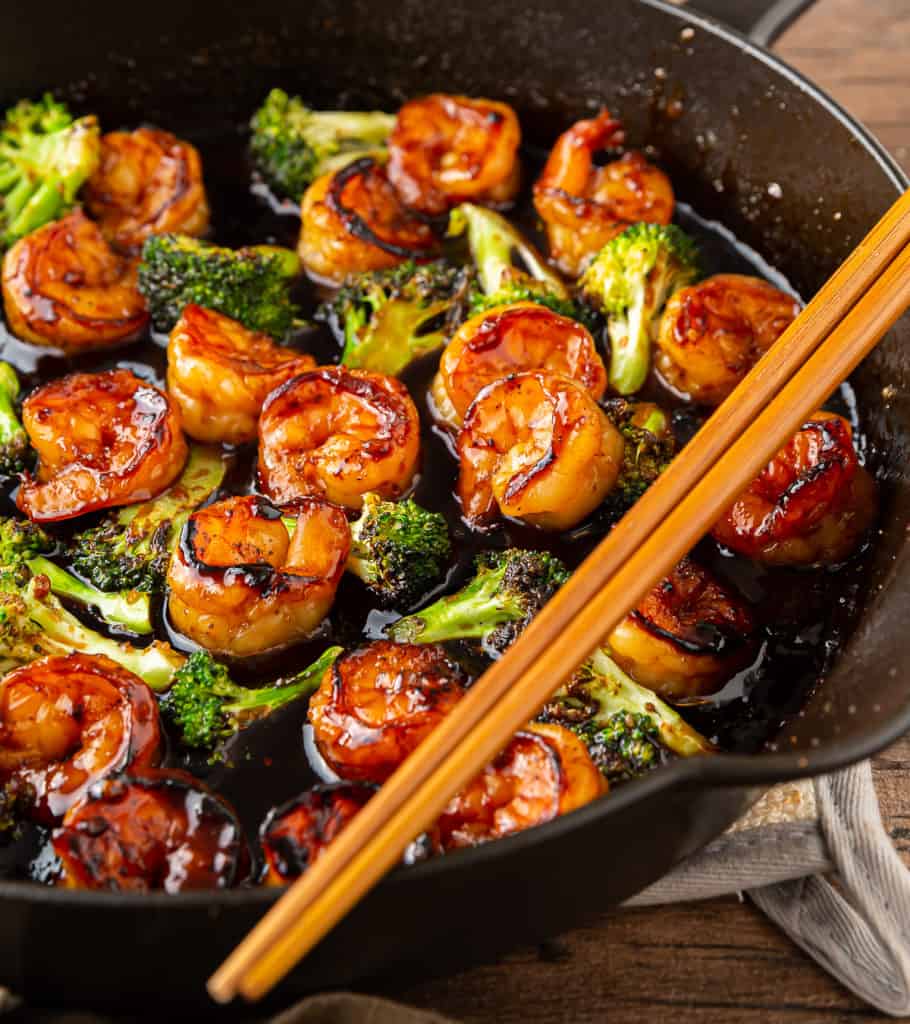 If you didn't already realize it - I am absolutely obsessed with seafood. It's light, delicious, and really is simple to cook once you get the hang of it.
This honey garlic shrimp and broccoli recipe is a great way to dip your toes into the world of cooking seafood if you are at all trepidatious about making it at home. The ingredients are easy to find and work with!
Tails on or off?
Ahhhhh that age old question: do you cook shrimp with the tails on, or take the tails off? I love the presentation of leaving the tails on, but I gotta say... I find it to be a total PAIN when actually eating the dish. So I take the tails off, and I hope that y'all are all okay with my not-quiet-as-gorgeous shrimp photos as a result.
I want my recipes to turn out for you the way they look in the photos though!
Can you use frozen shrimp or frozen broccoli?
Yes and Yes. When I lived on the coast, it was all fresh seafood all the time for me. But now that I live inland, I've really come to appreciate how far frozen seafood has come!
Regardless of if you are making this honey garlic shrimp recipe with frozen shrimp or frozen broccoli, you do want to defrost them first.
You can do this by putting the frozen item in a bag ( or the bag it came in, still seals ) in a large bowl of water in your sink. Turn the faucet on and run fresh cool but not cold water in the bowl. Everything should defrost in about 10 - 15 minutes, and then be ready to use in the recipe.
It's okay if they still have a bit of a frosty chill. That will cook off.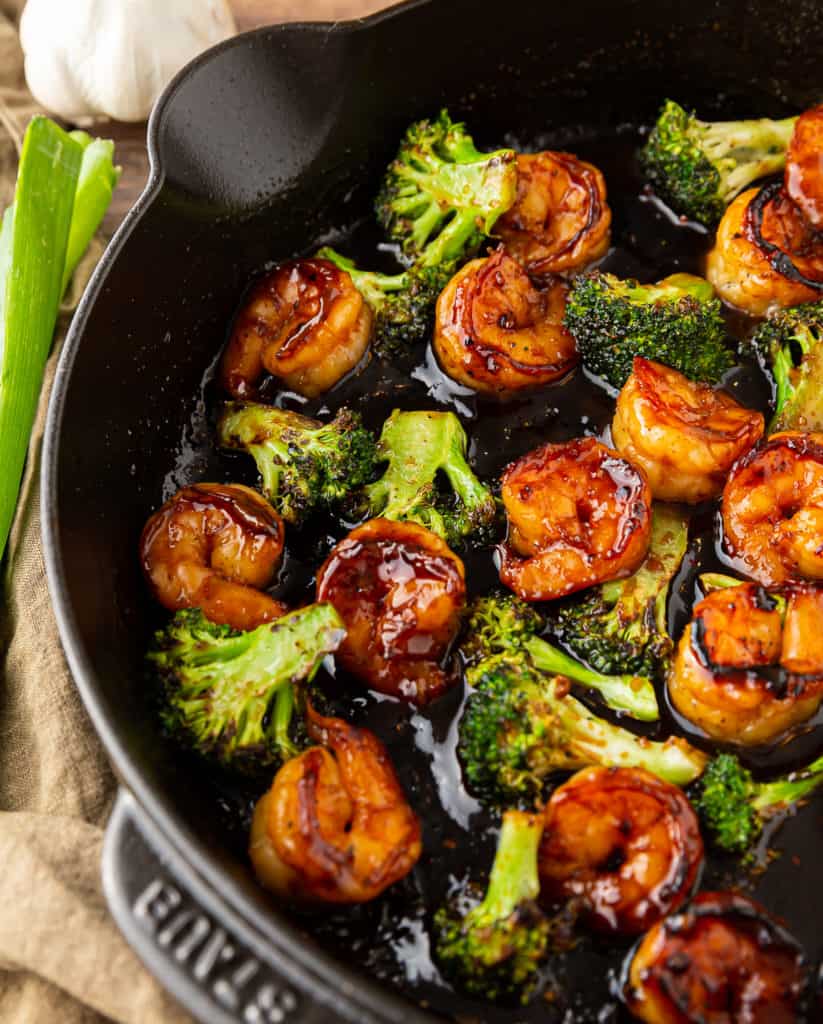 If you like this honey garlic shrimp and broccoli takeout recipe, you might also like these recipes:
Honey Garlic Shrimp with Broccoli
Your new favorite takeout fakeout: honey garlic shrimp with broccoli. Serve over rice for an easy, complete meal!
Print
Pin
Rate
Ingredients
½

cup

honey

¼

cup

reduced sodium soy sauce

2

Tablespoons

minced fresh garlic

¼

teaspoon

red pepper flakes

1

teaspoon

grated fresh ginger

1

lb

medium uncooked shrimp

peeled & deveined

3

cups

broccoli florets

2

Tablespoons

toasted sesame oil

1

teaspoon

cornstarch

sliced green onions

optional garnish
Instructions
Place shrimp in a large sealable container or zipped-top bag. Pour ⅓ of the marinade/sauce mixture on top, give it all a shake or stir, then allow shrimp to marinate in the refrigerator for 15 minutes or up to 8 hours. Cover and refrigerate the rest of the marinade.

Heat 1 Tablespoon of the sesame oil in a large heavy bottomed pan over medium-high heat. Place the broccoli florets in the pan. Cook for about 6 minutes, stirring occasionally, or until the broccoli is browned but silll crisp on the inside. Remove the broccoli from the pan and set it aside.

Add the remaining 1 Tablespoon of sesame oil to the pan. Place the marinated shrimp in the pan. Cook the shrimp for 1 minute, then flip it over. Quickly whisk the cornstarch into the the sauce you set aside earlier, and add it all to the pan and cook for another 1 - 2 minutes or until the shrimp is cooked through.

Stir in the broccoli and serve.