Last Updated on
Quicker, cheaper, and healthier than takeout: Garlic Ginger Green Beans are my favorite vegetable side dish when making restaurant-style Chinese food at home.
I love cooking traditional takeout or dining out types of food at home. It's cheaper, lighter, and generally ... better. I can also address a common problem my husband have when eating out at Chinese restaurants in particular if I cook at home: vegetables.
I love many of the vegetables commonly found in Chinese restaurants across America, but when I moved to South Carolina I found that the restaurants here tend to stick to celery, bell peppers, and onions to supplement meat, and those really aren't my favorites. Particularly bell peppers. I HATE bell peppers. So I started looking for a good, easy side dish to make that would pack a ton of vegetables into a meal, but also have a punch of flavor to stand up to whatever kind of meat and sauce I could think up to serve.
Cue the flavor-packed ( but not spicy ) Garlic Ginger Green Beans! They are dirt cheap, easy to cook, and don't require a special trip to the fun but admittedly sketchy local Chinese grocer that always bullies me about using my credit card instead of paying with cash. Sorry, guys, but the last thing I want to do is carry a large amount of cash into a grocery store that is pretty much under the highway, in a part of town most known for its beauty supply shops, payday loan stores, and chrome rim rentals.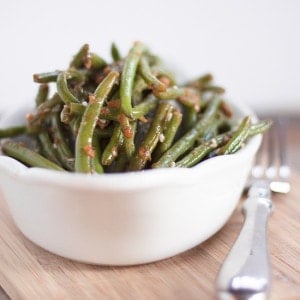 Garlic Ginger Green Beans
Super simple Asian vegetable dish that packs a flavorful punch without added heat.
Print
Pin
Rate
Ingredients
1

Tablespoon

Toasted Sesame Oil

1

teaspoon

Grated Fresh Ginger

1

teaspoon

Minced or Pressed Fresh Garlic

2

Tablespoons

Low Sodium Soy Sauce

2

teaspoons

Sesame Seeds

optional, garnish

10

ounces

green beans
Instructions
Cook the green beans according to package directions, but short the cooking time by one minute. ( So if you have fresh green beans, steam them like you usually would, just for one minute less. If you are using canned .... please don't ... but if you are, you can skip this step entirely. )

In a large saucepan or wok set over medium high heat, add the green beans and the oil. Toss to coat.

Once the beans are coated with the sesame oil, add the ginger, garlic, and soy sauce. Toss the beans with the ingredients for two minutes.

Turn off the heat, and stir the ingredients for one minute more in the pan with the heat turned off.

Serve warm, topped with sesame seeds.