This post was crafted in partnership with and sponsored by Harris Teeter. As always, all opinions are my own.
Today we're mixing it up a little and talking about something I often help my friends with outside of my blog, but I rarely discuss online: budgeting for groceries! I'm the first one to admit that I love to splurge now and then when it comes to food, but even I meal plan on a budget each week.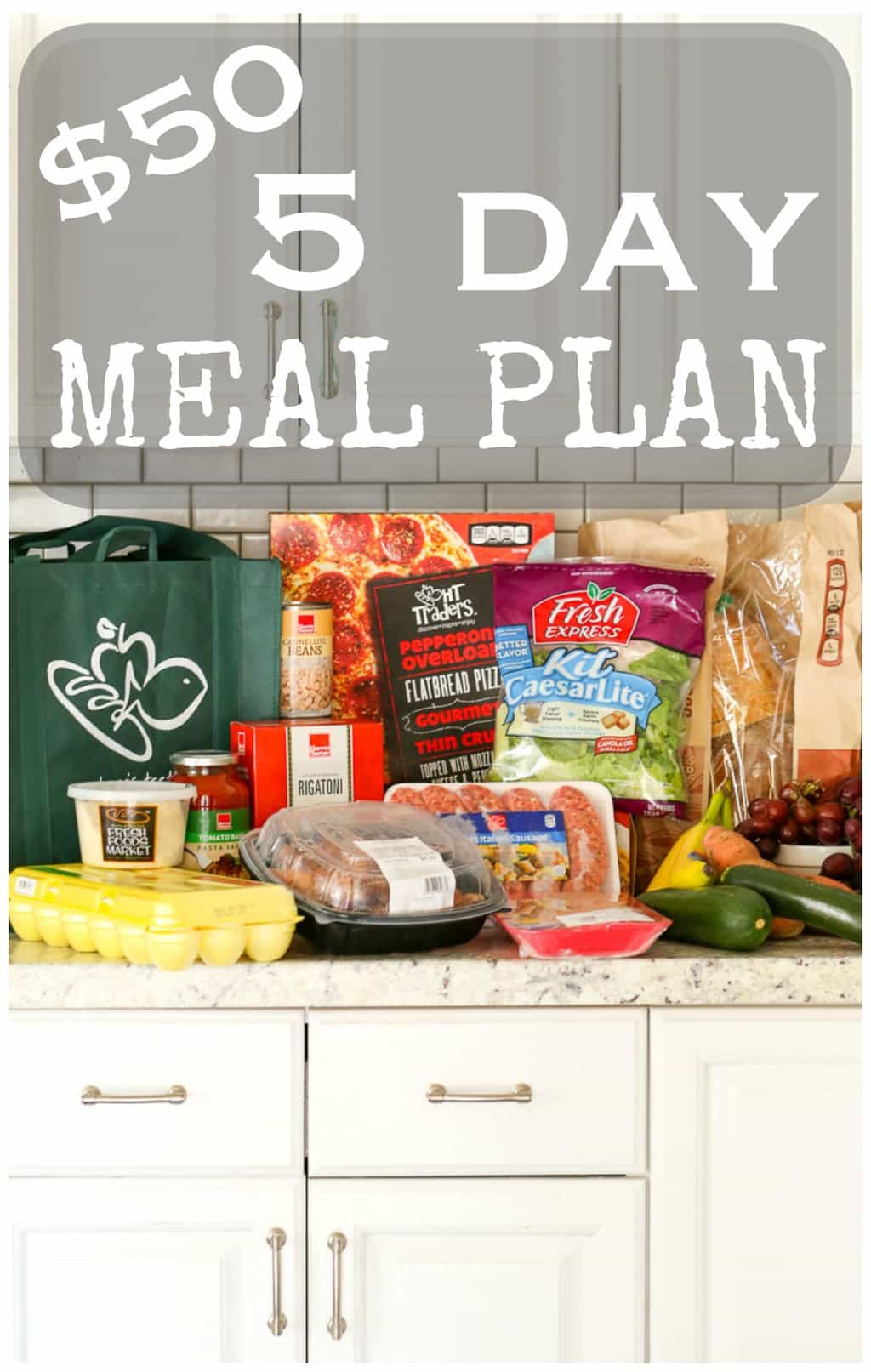 So I'm sharing some tips and tricks for creating a meal plan and sticking to a budget, along with five days worth of meals that will keep you fed, but also not make you a slave to your kitchen. OH, and of course, I've included one of my favorite budget recipes to help you spice things up a bit.
Tip 1: Shop the Sales
If you are really in the mood for full-priced meat or those fancy muffins in the deli case, go for it, if it fits in the budget, but make room for things like that in the budget by shopping the sale ad! Before I even think about what I'm going to plan for the week, I browse the sale ad.
Tip 2: Plan for an "Emergency"
I have an entire set of what I call "Emergency Meals" at the ready in my house. These are meals that I turn to when I would rather do ANYTHING but cook dinner, and am really wanting to eat dinner out. Emergency Meals are usually not as healthy as what I might cook on a night I'm excited to come home and make dinner, but they get the job done, are still healthier than dining out, and prevent me from spending a random $50 on a dinner out that I really didn't need. The Emergency Meal in this plan is the pizza with the bagged salad. Easy, quick, cheap, and let's be honest: delicious.
Tip 3: Make a Shopping List, but Be Flexible
( With your groceries, not with your budget! ) For this week, I went into the store fully planning on buying a rotisserie chicken for around $6, but when I got there, I saw I could get pre-cut-up rotisserie chicken for the super low price of $4. SOLD! Also, open your mind to trying some house brands instead of the nationwide name brands. Harris Teeter's private label makes a raspberry lemon sandwich cookie that I'd take over ANY other packaged cookie, regardless of price, and I never would have discovered it if I hadn't been trying to save a few dimes one day in the cookie aisle and given their in-house private label brands a try.
Above, you can see the shopping list I used for this meal plan. My grand total came to $47 for all of this food from Harris Teeter, and that included real parmigiano reggiano cheese, and a killer ( and huge ) loaf of in-house baked bread with a wonderful crunchy crust and hearty, yeasty french-bread-like interior. These two items are relied on heavily in my meal plan to step up the flavors and textures of my meals from average to amazing.
Day 1
Breakfast: Waffles, grapes
Lunch: Stir fried chicken with Harris Teeter Stir Fry Blend Vegetables, Rice
Dinner: Rotisserie Chicken, Roasted Sweet Potatoes
Day 2
Breakfast: Bananas ( with peanut butter if you happen to have some on hand. I always do. )
Lunch: Stir fried chicken with Harris Teeter Stir Fry Blend Vegetables, Rice
Dinner: Sausage Rigatoni ( 3 sausage links, box of rigatoni, Harris Teeter Pasta Sauce in your favorite flavor, lots of parmesan ), steamed HT Baby Bud Broccoli
Day 3
Breakfast: Waffles
Lunch: Leftover Sausage Rigatoni
Dinner: Eggs in a Basket ( remove about 3" of bread from the center of each slice, toast in a pan on the stovetop in olive oil and a few cloves of smashed garlic, fry an egg in the well made from the bread removed from each slice. Top with salt, pepper, and parmesan )
Day 4
Breakfast: Waffles with bananas
Lunch: Egg Salad Sandwiches, Grapes
Dinner: Sausage, Zucchini, White Beans, Olive Oil Toast ( recipe below )
Day 5
Breakfast: Fried eggs, toast.
Lunch: Leftover Sausage, Zucchini, White Beans
Dinner: Harris Teeter's Pepperoni Flatbread, Caesar Salad
Sausage, Zucchini, and White Beans
A low cost meal that deliciously feeds a crowd.
Print
Pin
Rate
Ingredients
2 15.5

oz

cans Harris Teeter Cannellini Beans

2

links HT Italian Sausage

casing removed

2

Zucchini

thinly sliced into half-moons

1

Tablespoon

Water

or White Wine, if you have some on hand

½

teaspoon

Salt

¼

cup

Olive Oil

¼

cup

Parmesan

3

cloves

Garlic

minced

¼

teaspoon

Black Pepper

¼

teaspoon

Crushed Red Pepper Flakes

optional
Instructions
In a large pan set over medium high heat, add the sausage links with the casings removed. Break up the sausage in the pan and brown until you have cooked sausage crumbles, about 6 minutes.

Add the zucchini slices, 1 Tablespoon water or white wine, and salt. Cook for 4 minutes or until zucchini just starts to soften.

Add the garlic and olive oil to the pan and cook for 1 minute, stirring frequently.

Add the white beans to the pan and cook for 2 more minutes, stirring occasionally.

Serve with toast brushed with olive oil.