This post is paid for by Sauza® Tequila and is intended only for audiences 21+.
Did y'all know Cinco de Mayo is the top tequila consumption day of the year?! Sounds like my kind of holiday. Best make a refreshing, tropical Coconut Pineapple Margarita to share with your friends.
Individual cocktails are great fun when it's just me and my husband, but for a group, a batch cocktail makes life SO much easier.  It also takes the trouble out of anything like a centerpiece or excessive decor, because I always use the cocktail as the centerpiece, and fresh ingredients inspired by the cocktail for decor.
I love using produce for a cocktail inspired decor, because it makes things festive at the party, but then can be you know, actually USED for something later on.
Waste not, want not, as they say.
I've been really into coconut in my cooking recently, and that was bound to spill over into cocktails! That's why I am so excited to be partnering with Sauza® Tequila to create my newest cocktail.  I wanted to get a little coconutty, but I HAD to stick with something margarita-based, because it just doesn't feel like Cinco de Mayo without margaritas of some kind in our house!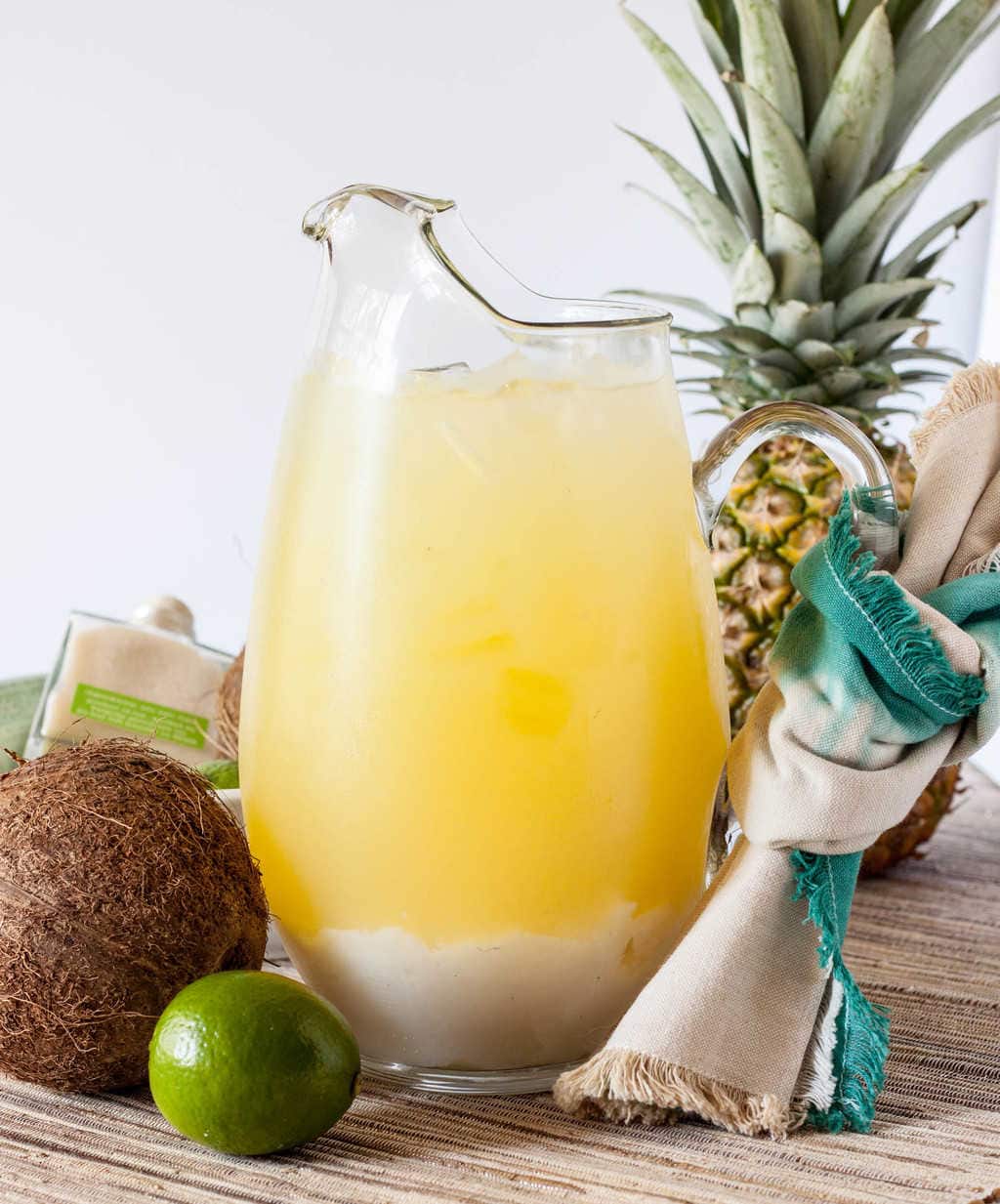 That's how I created this Pineapple Coconut Margarita.  I have always been a silver tequila ( as opposed to gold tequila ) kind of girl, so starting with a real Mexican, 100% agave, silver tequila from Sauza is a given. Cream of Coconut makes this margarita silky smooth on the palate, lime gives it a bite, and the pineapple makes a fabulous froth with a little vigorous stirring.  Pineapple is one of my favorite secret weapons in cocktails. Just a bit of pineapple and a bit of shaking ( or rough stirring!  ) can give you an egg white-style foam in a cocktail without dealing with any of those pesky raw egg whites.
Coconut and pineapples make for a really fun décor, too, so make sure to pick up some fresh ones at the store and send your friends home with a fun party favor at the end of the night ( or hoard it all for yourself and drink fresh coconut water and eat chilled pineapple chunks for breakfast the next morning! )
Ingredients
3

cups

Sauza® Signature Blue Silver Tequila

8

ounces

fresh lime juice

juice from about 5 limes

12

ounces

pineapple juice

22

ounces

cream of coconut

find it in the cocktail/mixer section of the grocery store

ice

pineapple leaves

garnish, optional
Instructions
Fill a large ( at least 80 ounce capacity ) pitcher with ice.

Add the

Sauza® Tequila

, fresh lime juice, and pineapple juice. Stir to combine.

Pour in the cream of coconut. The cream of coconut will settle on the bottom to make a gorgeous layered cocktail in the pitcher.

Immediately before serving, set out glasses filled to the top with ice, garnished with one pineapple leaf set into the glass, and stir everything in the pitcher together to combine the cream of coconut with the rest of the margarita.

Pour over ice, and enjoy!
Notes
Note: Some people love salt with their margaritas – set out a small bowl with some high-quality large flake salt ( or a fun flavored salt ) for your friends to use at their discretion with their cocktails.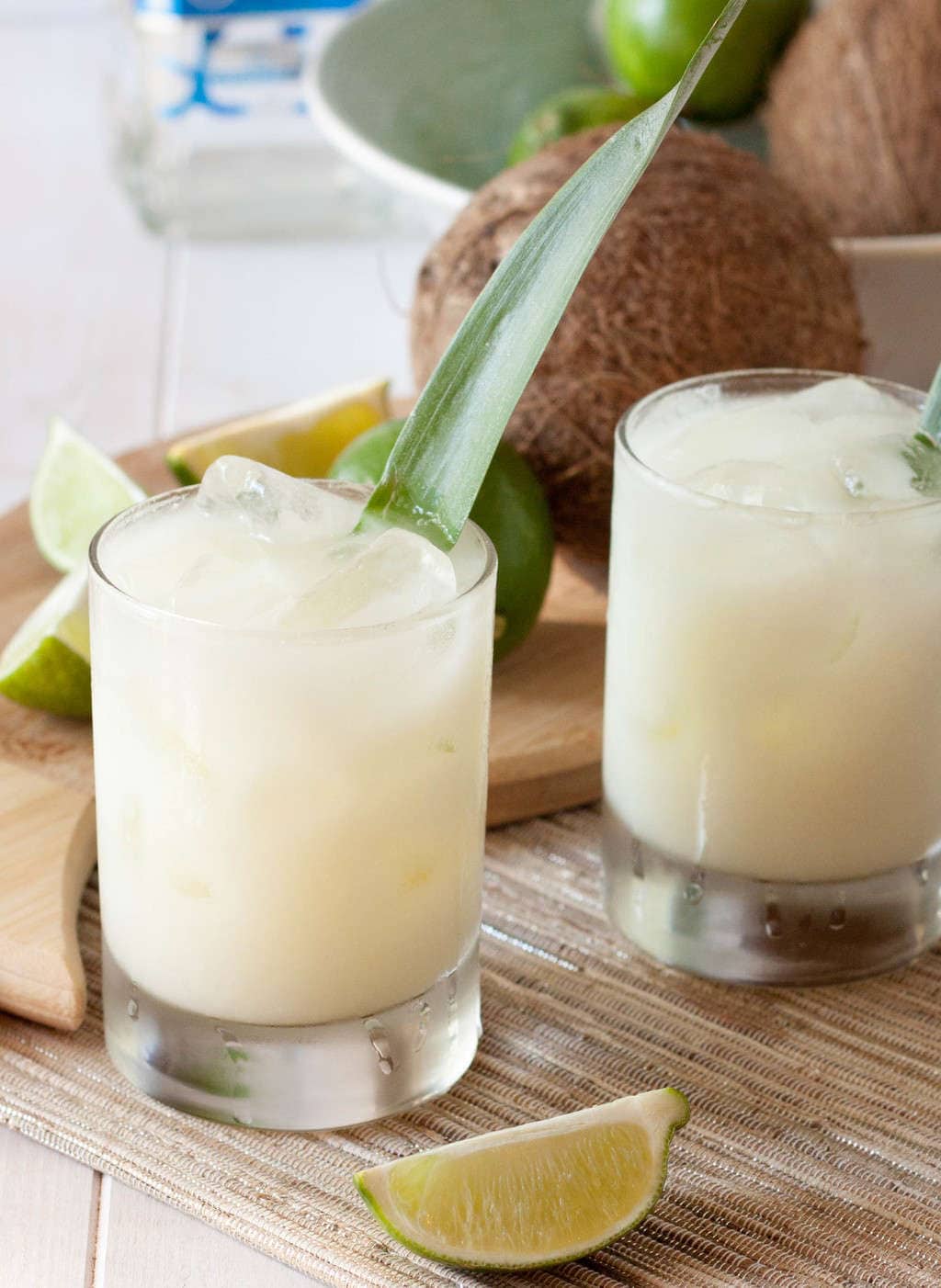 Drink Smart®
Sauza® Blue Tequila, 40% alc./vol. ©2017 Sauza Tequila Import Company, Chicago, IL
Sauza® is a trademark of Jim Beam Brands Co. ("Beam") and is used with permission. The information, comments and ideas expressed in this post do not necessarily reflect the views or opinions of Beam, its affiliated companies or any of their directors or employees.