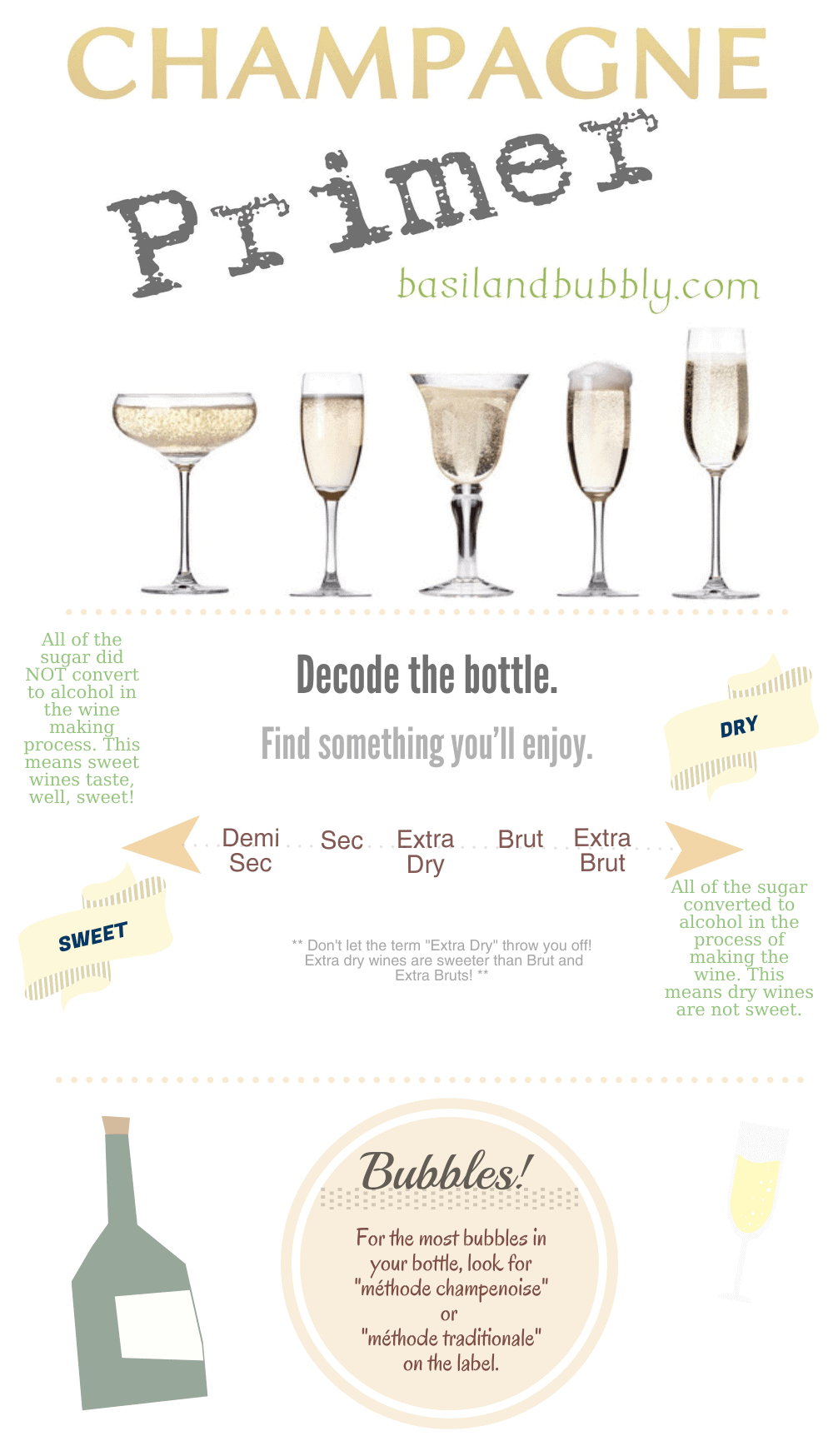 In the words of F. Scott Fitzgerald, "Too much of anything is bad, but too much champagne is just right".
Amen, brother.
With New Year's Eve just around the corner, I wanted to take a moment to talk about the bubbly stuff, because as shocking as I find this, there are actually people who don't drink champagne year round.  Heathens!  To be fair, I don't actually drink proper Champagne year-round either -- most of what I drink is sparkling wine. What's the difference, you ask?
What is Champagne? and what isn't?
Technically speaking, a sparkling wine is only Champagne if it is made from grapes grown in the Champagne region and with the "méthode champenoise" ( aka "méthode traditionale").  This is the easiest thing you can remember about Champagne -- Champagne comes from Champagne and is made with the Champagne Method.  Anything that does not meet all of those requirements is safely called a Sparkling Wine.
All sparkling wines experience two stages.  The first stage ( fermentation ) turns grape-y goodness into wine-y better-ness.  All wines undergo that stage.  Sparkling wines undergo a second fermentation, where the winemaker adds a bit of sugar, called a dosage ( dough-sahj ), to the wine, and that sugar turns into the bubbles.  The amount of sugar that is left after the second fermentation determines how sweet or dry the wine is.  Champagne and sparkling wines made in the méthode champenoise undergo this second fermentation in the bottle.  Sparklers not make in the traditional Champagne method are made with the Charmat method.  The second fermentation takes place in a separate tank for those wines.  Prosecco, Cava, and many American sparkling wines are made with the Charmat method.
There are a lot of people ( *cough* *cough* most of them are in France and snooty American wine bars ) who are quick to look down their noses and correct those who refer to what is technically Sparkling Wine as Champagne, but I try to avoid doing any such thing.  I know what makes true Champagne, and don't feel the need to condescendingly correct those who are simply trying to learn something new about wine.  Of course, if you are intentionally being obnoxious or otherwise obstinate about calling all Sparkling Wines "Champagne", prepare to hear a rant about the various laws in France regarding production of both wines and cheese, and the disgusting grandfathering in of a certain California sparkling wine with a huge marketing budget that tastes like burnt caramel and the tears of French legislators. Consider yourself warned.
How do I find something I'll enjoy?
For the purpose of this intro into sparkling wines, let's look at two fairly straightforward aspects: bubbles and sweetness.
Champagne and sparkling wines made in the méthode champenoise will have the most bubbles.  For some ( not me! ) the amount of bubbles from this classic method can be overwhelming.  Sparkling wines made with the Charmat method will have fewer bubbles.  If a bottle does not explicitly state that it is méthode champenoise, méthode traditionale, or their english equivalents ( Champagne Method, Traditional Method ), then it is safe to say it was made with the Charmat method.
As I am a lover of the true Champagne ( as previously stated, from the Champagne region, made in the méthode champenoise ), I look for sparkling wines that have the bubbles and dryness of the classic stuff, without the cost.  Wines made outside of the Champagne region, but still in the traditional method are my preference when I'm footing the bill.   They are almost always brut or extra brut ( dry or very dry ).  Don't be thrown off by the term "Extra Dry" on bottles.  This actually means the wine is sweeter than a brut!
What do you recommend?
The Ritzy Gift:
Veuve Cliquot "La Grande Damme" ( Brut, France, $125 )
Domain Carneros "Le Reve" ( Brut, California, USA,  $100 )
Taittinger "Comtes-de-Champagne" ( Brut, France, $140 )
The I-Thought-I-Wanted-Ritzy-But-Your-Ritzy-Is-Too-Ritzy Gift:
Domaine Carneros ( Brut, California, USA, $35 )
Perrier Jouet Grand Brut ( Brut, France, $40 )
Veuve Cliquot Yellow Label ( Brut, France $40 )
The Boozy Bridal Shower:
Sofia Blanc de Blancs Minis ( Extra Dry, California, USA, $18 )
Domaine Chandon Rosé ( Brut, California, USA, $17 )
The Classy Budget New Year's:
Saint Hilaire Limoux Blanc de Blancs ( Brut, France, $13 )*
Domaine Chandon Brut Classic ( Brut, California, USA, $15)
La Granja 360 ( Brut, Spain, $7 )
The My-Friends-Would-Drink-Mt-Dew-In-A-Flute-If-I-Didn't-Stop-Them New Year's:
Freixenet Sparkling Cordon Negro Brut Cava ( Brut, Spain, $10 )
Segura Viudas Brut Cava ( Brut, Spain, $9 )
* The Saint Hilaire is my personal pick for Best Buy of all of the recommendations.
If you have any questions, feel free to contact me through my About page, or tweet me @basilandbubbly!