Summer in a sandwich: this lemony, honey-drizzled blackberry brie sandwich will make you want to spend the entirety of the hot months having picnics on your lawn and sipping champagne.
I don't even know why this sandwich makes me feel so damn fancy.
Oh, but it does.
When the thermostat hits 100 in South Carolina, it's time to give up any meal that requires a heat source, if even for one night.  You deserve a break, and your oven and HVAC unit will thank you. We could all use a little less heat in the house.
So take it easy tonight.  Run by the store and grab some fresh produce, crusty bread, and brie.
Ahhhhhhh yes, the brie.  My favorite type of cheese, and y'all, let me tell you, I could go on for HOURS about all kinds of brie, but for this recipe ... just use the cheap stuff.
That's right: the cheap stuff. Get the cheapest cheap brie you can find.  It's okay. I won't tell, if you won't.
Usually I believe brie should be like a fragrant butter -- creamy, silky, SPREADABLE.  For this gem of a picnic sandwich though, I kinda like the sliced brie.  Although now that I'm thinking about it ... perhaps it would be just lovely to try it with the fancy $38/lb stuff sometime ( and if you're rollin' like that then more power to you and go for it! )
But seriously, for now, let's just go with sliced brie.  Simple, mild, creamy.
Oh yeah, and drizzled with honey. Delicious, delicious local honey.  A simple but delicious meal for eating out on the porch in 100 degree heat with some nearly ice cold inexpensive champagne, a good book, and two cats who where sure they liked brie, but turned their noses at it when tossed a few pieces.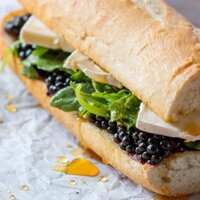 Blackberry Brie Sandwich
Sweet, cheesy, tart. This recipe makes eating a sandwich feel special.
Print
Pin
Rate
Ingredients
1

Tablespoon

lemon juice

1

Tablespoon

olive oil

¼

teaspoon

cracked black pepper

14/

teaspoon

salt

2

cups

arugula

⅓

French baguette

2

ounces

blackberries

cut in half ( approximately 6 - 8 blackberries )

3

ounces

brie

sliced

1

ounce

honey
Instructions
Slice the baguette in half and place under a broiler or toaster oven until lightly browned and toasted. I'm not going to tell you how to do this. I'm counting on YOU to know how to make toast. Please know how to make toast.

In a medium bowl, whisk the lemon juice, olive oil, pepper and salt. Toss in the arugula to lightly coat.

Assemble the sandwich like this: baguette half, halved blackberries cut-side down on the bread, arugula salad, brie slices, honey drizzled on top, then everything topped with the other half of the baguette.
Notes
Best served with champagne.