Today, we're talkin' COOKIES. Traditional, Southern, Lowcountry Benne Wafers to be precise. A cookie that elevates the humble sesame ( benne ) seed into something crisp, toasty, and with a robust flavor, but a delicate vessel. These cookies can be found all over Charleston, and it's time we learned how to make benne wafers at home!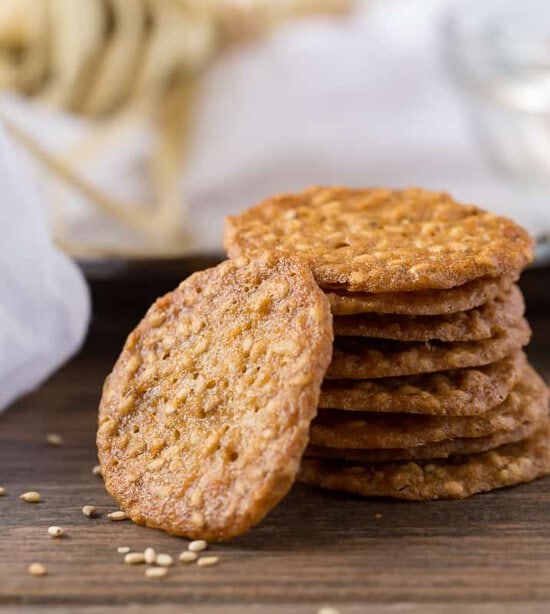 I don't usually buy cookies. If I want a cookie, I'll make it. Given that, I can safely say that I have bought more benne wafers than any other cookie I've ever bought. I LOVE them - a little sweet, with a distinct nuttiness, and a delightful crunch, they are the perfect little after dinner treat.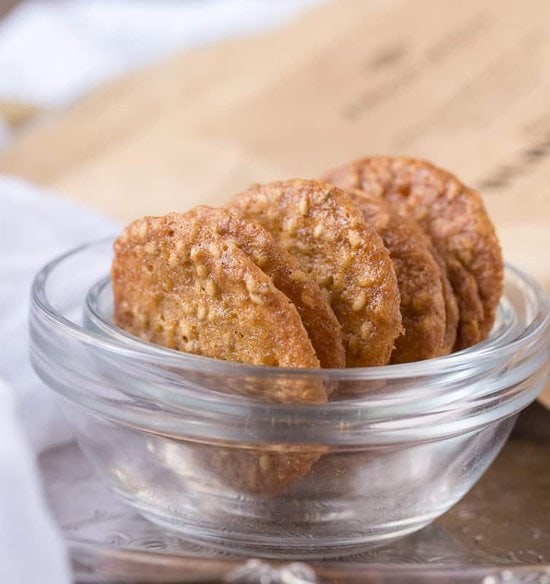 However, the delicate, crisp texture seemed like something I just wouldn't be able to recreate at home. Then, after I tossed a bag of Benne Seeds ( known as Sesame Seeds to you non-South Carolinians out there ) into my latest order from Anson Mills in order to meet the four-bag minimum, I found myself questioning the difficulty of making this Lowcountry sesame seed cookie.
After all, removing just a tablespoon of benne seeds here and there to garnish random dishes was NOT going to use up the entire bag I had stored in my freezer!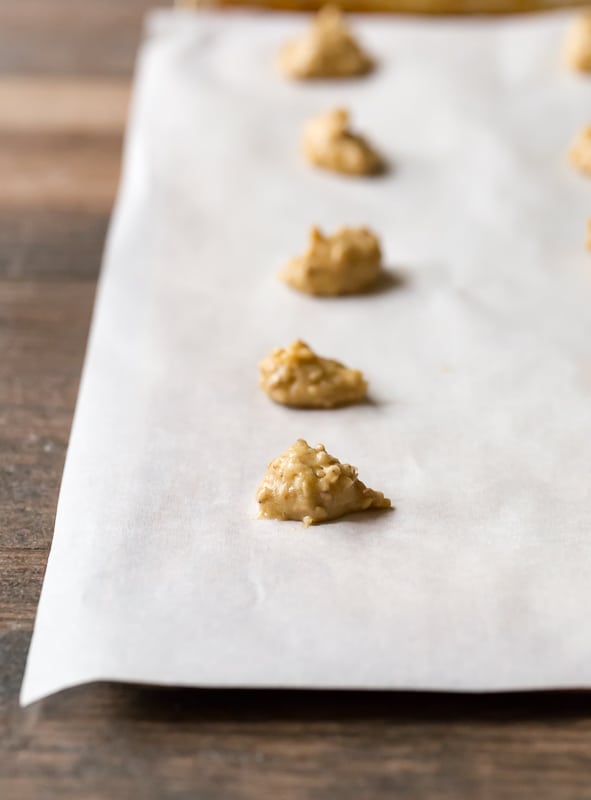 Taking cues from years of recipe testing, plus my own favorite lace cookie recipe ( that I swear I will get up on the blog one of these days! ) I decided to tackle making Benne Wafers myself.
Guys, they were SO easy, and like many things, the homemade ones are so much better than store bought. I don't think I'll ever go back to store bought again!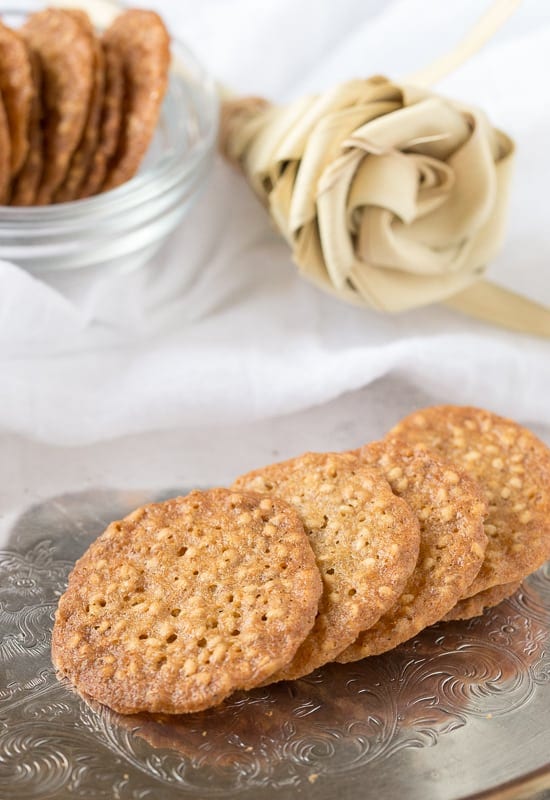 How should you serve and eat benne wafers?
They can be eaten on their own, paired with a cup of coffee, or you can ruin them with a little chocolate ( please don't tell me if you do this ).
They are divine when made into a refreshing, bite-sized, ice-cream-style sandwich with a dollop of lime sherbet between two wafers.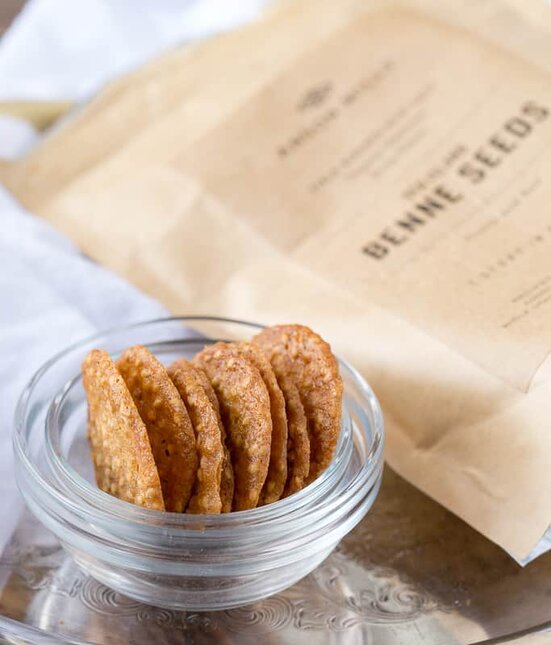 If you love classic Lowcountry cooking, here are some more recipes you might like:
Benne Wafers
Simply the best Lowcountry Benne Wafers you'll find! Better than what you find in the shops in Charleston!
Print
Pin
Rate
Ingredients
½

cup

sesame seeds

benne seeds

¾

cup

firmly packed light brown sugar

⅓

cup

all purpose flour

½

tsp.

salt

¼

tsp.

baking soda

¼

cup

butter

cut into cubes

1

egg

½

tsp.

vanilla extract
Instructions
Preheat the oven to 350 degrees F.

Spread the sesame seeds on a cookie sheet ( no lining or greasing necessary ). Toast the sesame seeds in the preheated oven for approximately 8 minutes, or until they become fragrant and just start to brown.

In a large bowl, cream together the sugar and butter, then mix in the egg, salt, baking soda, and vanilla extract.

Add the flour, and mix until the mixture is smooth.

Stir in the toasted sesame seeds.

Line two cookie sheets with parchment paper. Drop the dough onto the cookie sheets in 1 teaspoon dollops, leaving approximately 1 ½ inches between each drop to allow the cookies to spread.

Bake for 10 minutes, or until cookies are golden brown. Allow to rest on the pan for 2 minutes before removing to a cooling rack.
Notes
Benne wafers can be stored in an airtight container for up to a week.