The jerks (their words, not mine! ) over at Cannonborough Beverage Company sent me some of their new shelf-stable line of sodas to test out.  Obviously, cocktail making ensued. ( Basil Gimlet Recipe at the bottom! )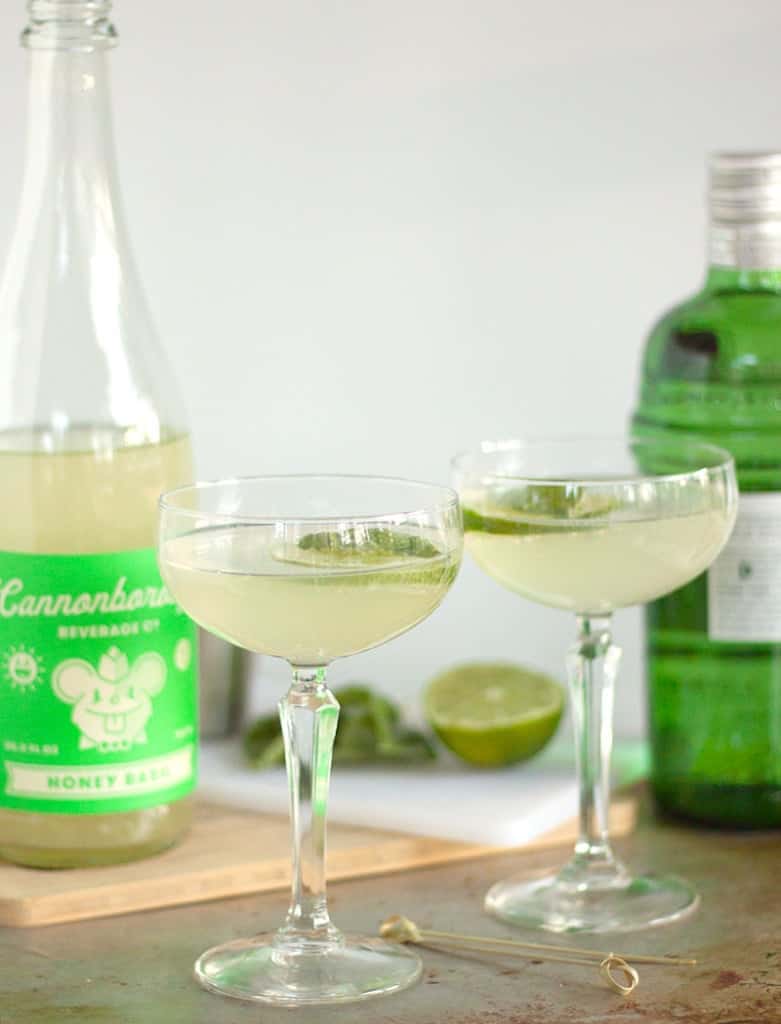 You probably think of something horrible from a can when you hear the word "soda".  Something high fructose-y.  Something inexplicably dark brown.  Something that explodes when you drop a Dutch mint into it. Ugh. Soda.  If that's what you think of when you hear "soda", you have not had a soda from Cannonborough Beverage Company.
I'm tempted to throw in some trope like "This isn't your granddad's soda"...
Except maybe it kinda is.  You know, from a time when food was still made with real ingredients, by a guy behind a counter mixing fancy syrups and adding bubbly water to them?
Soda.
Charlestonians have been lucky enough to have access to the delicious creations from Cannonborough Beverage Company at the Farmer's Market for what feels like years.  Has it been years? I think it has been.  It's been a long time since I shopped for heirloom carrots without an Elderflower Grapefruit Soda in my hand.
Oh, did I not mention that yet?  The flavors?  The offerings are: Honey Basil, Ginger Beer,and the aforementioned Elderflower Grapefruit.
---
Honey Basil
To be totally honest, I was not excited for this one.  I'm not much for basil in beverages ( yeahhhh I get that it's ridiculous given the name of my blog is Basil and Bubbly ... ), but I figured I'd give it a try.  After all, they were nice enough to send me some.
It's shockingly excellent. I expected this flavor would taste overbearingly of basil, but it didn't it all. One of the overarching themes of all of their sodas seems to be balance.  The Honey Basil flavor, in particular, is almost delicate.
Oh, and when you add a hefty splash of gin, you get the absolute easiest cocktail in the world to make that tastes like you just paid $15 at a downtown bar.  Yes, please. I'll have two. Or four. Whatever. Just keep 'em coming. ( Recipe below )
Ginger Beer
Ginger beers are everywhere right now, but theirs is legitimately different.  It's more refined; gingery, without any of that "my insides are burning" feeling that seems to be so popular right now.  A nice change of pace.  If I want it to burn, I'll add a little vodka and unsweetened cranberry juice to it to make a Cranberry Moscow Mule.
Elderflower Grapefruit
This stuff is the nectar of the gods.
Maybe you didn't hear me? Nectar of the gods. A little tart, a little sweet, and a little floral, it's fancy but still super drinkable.  If for some reason you can only get your hands on one flavor ( that's dumb, try them all ), this is my pick.  I'll have a recipe for another easy cocktail with this flavor up later in the month for you all!
You can buy all of the sodas on their website -- and their flat-rate coast-based shipping deal is pretty cool, and more importantly, cheap. It's almost like they want you to buy it.  Refreshing.  #HorribleSodaPun
---
So, let's go back to that cocktail I made with the Honey Basil.  It almost seems absurd to post this as a "recipe", it's so easy.  Gin + Honey Basil = Basil Gimlet.  Do it. Fool your friends into thinking you're classy by making a cocktail that requires all of the mixology prowess of a rum and cola and tastes like you ordered it from a high-end bar.  Extra points if you put it in glasses that look fancy but were actually pretty cheap.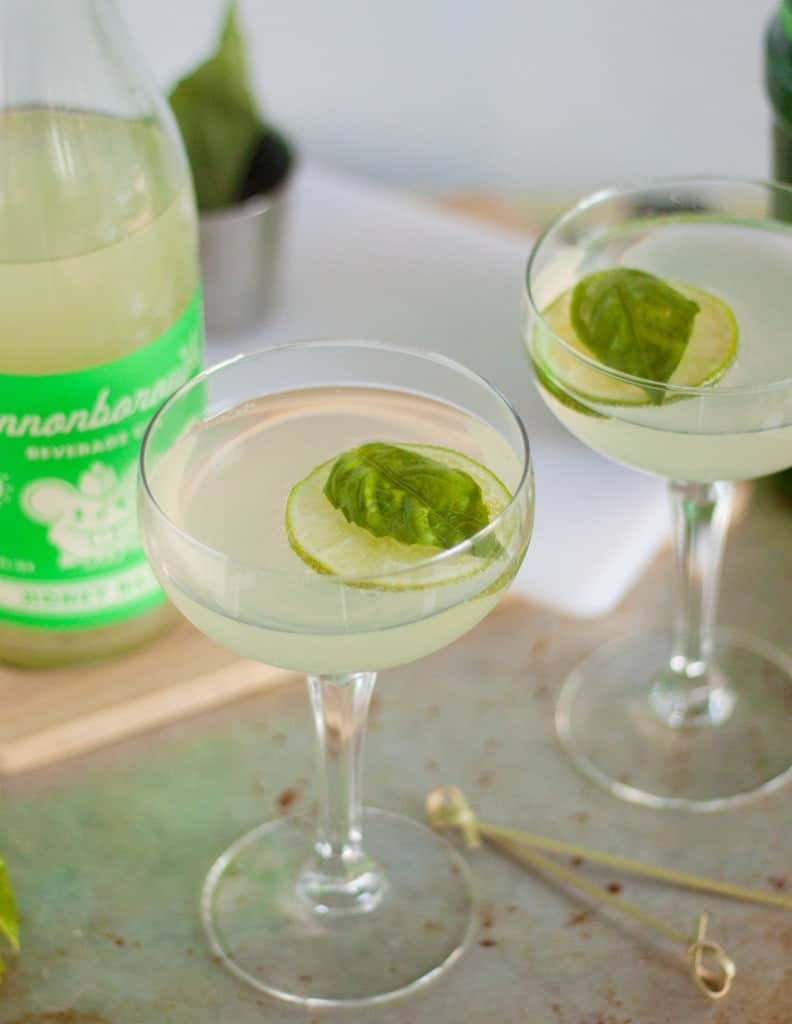 Ingredients
3

ounces

Basil Honey soda

1.5

ounces

Gin

optional: Basil leaf

Lime slice for garnish
Instructions
Shake the Gin over ice, strain into a cocktail glass.

Top with Basil Honey soda. Gently stir to combine.

Optional: Garnish with a floating basil leaf. Realize that basil does not float. Curse the basil. Slice a lime. Float the lime in the drink. Top with the basil leaf. Take a sip of Basil Gimlet in celebration of your victory over non-floating basil leaves everywhere.