Super impressive and delicious, but also super easy to make, this bacon asparagus quiche recipe has all the trappings of an Easter brunch recipe that will be a huge hit.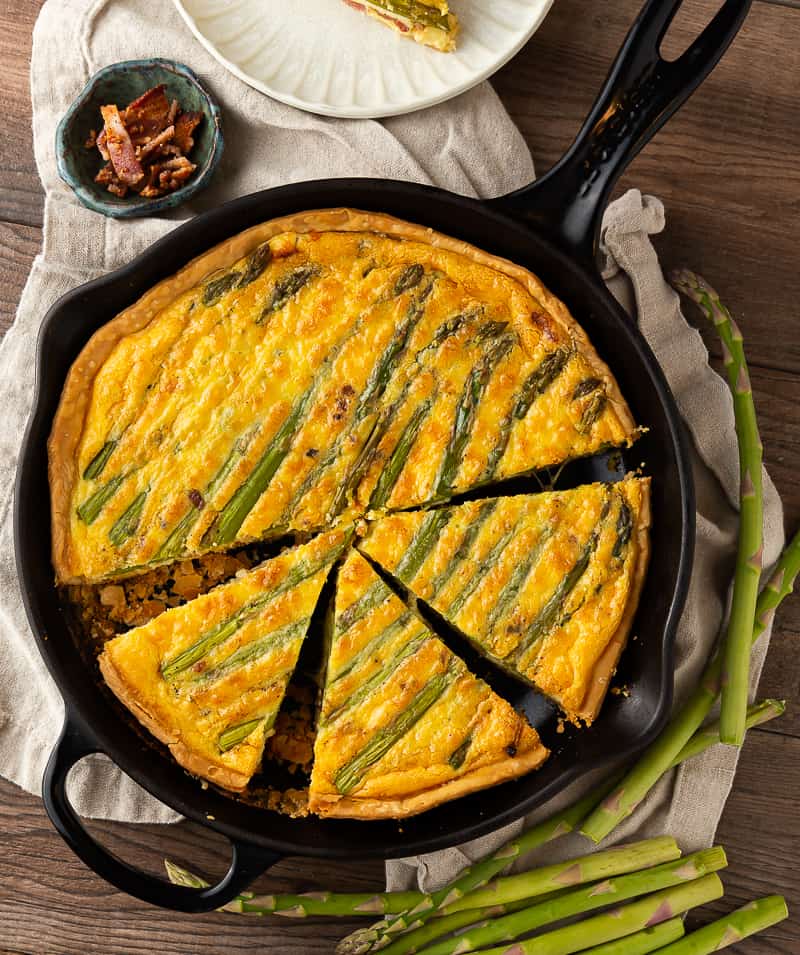 One of the best things about asparagus and bacon quiche is that all that beautiful green lets you pretend its healthy.
But we know the truth, don't we? Deliciously eggy and cheesy, with a perfectly cooked pastry crust and crumbled bacon: this ain't health food.
It's BRUNCH food.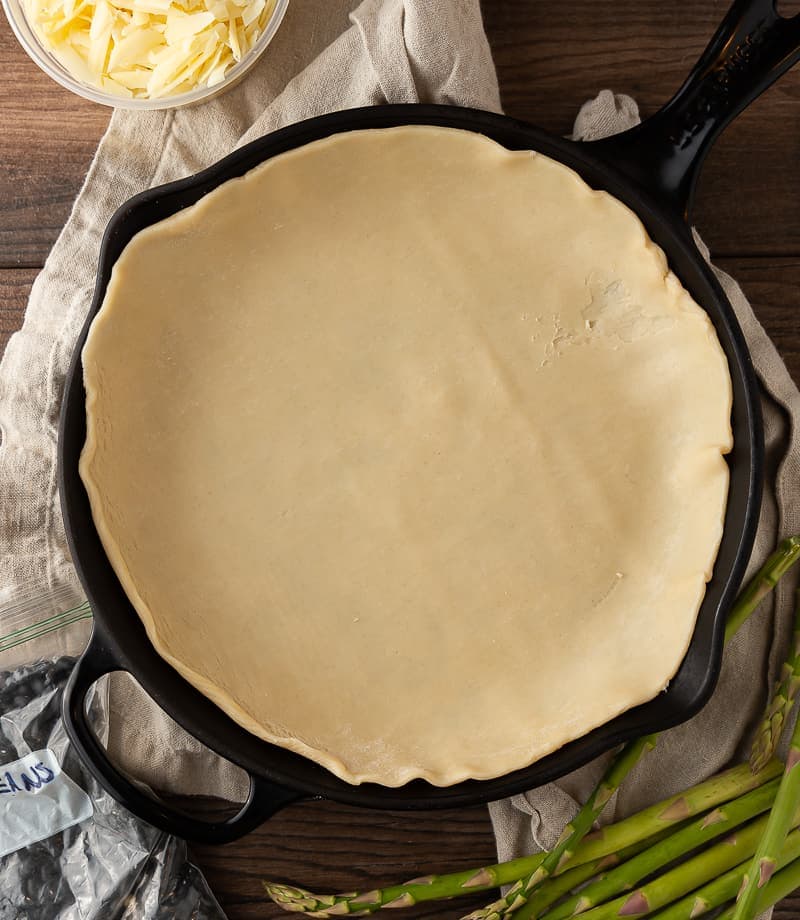 How to make a quiche
The basic algorithm is simple:
parbake a crust
sprinkle cheese and other mix-ins ( bacon, onion, wilted spinach) on the bottom of the crust
pour egg/cream mixture on top
For this recipe, we save our asparagus "mix-in" until the end though, adding it after pouring in the egg and cream mixture so that the asparagus has a nice, uniform look and stays on top of everything else while cooking.
Do you need to use homemade pie crust in a quiche?
Nope! I NEVER do.
One more time for the people in the back: NEVER.
Why? Because I'm horrible at making pie crust. Any story bought pie crust is going to be better than mine, so I stopped trying to make my own a long time ago.
If you have the homemade pie crust gift, then by all means use it! And I am very jealous of you. A well-made homemade pie crust is a wonderful thing.
Do you HAVE to par bake the pie crust for a quiche?
Sigh.
No. You don't HAVE to par bake pie crust when making a quiche.
But here's what I'll say about doing it anyway: everything is a tradeoff. Will your quiche be ruined and raw if you do not par bake the pie crust? Nope. It will be delicious. It will also have a bit of a soggy, soft bottom.
The bit of extra effort it takes to par bake the crust is worth it to me - because you'll have a lovely, flakey, firm bottom that holds together nicely when you cut a slice.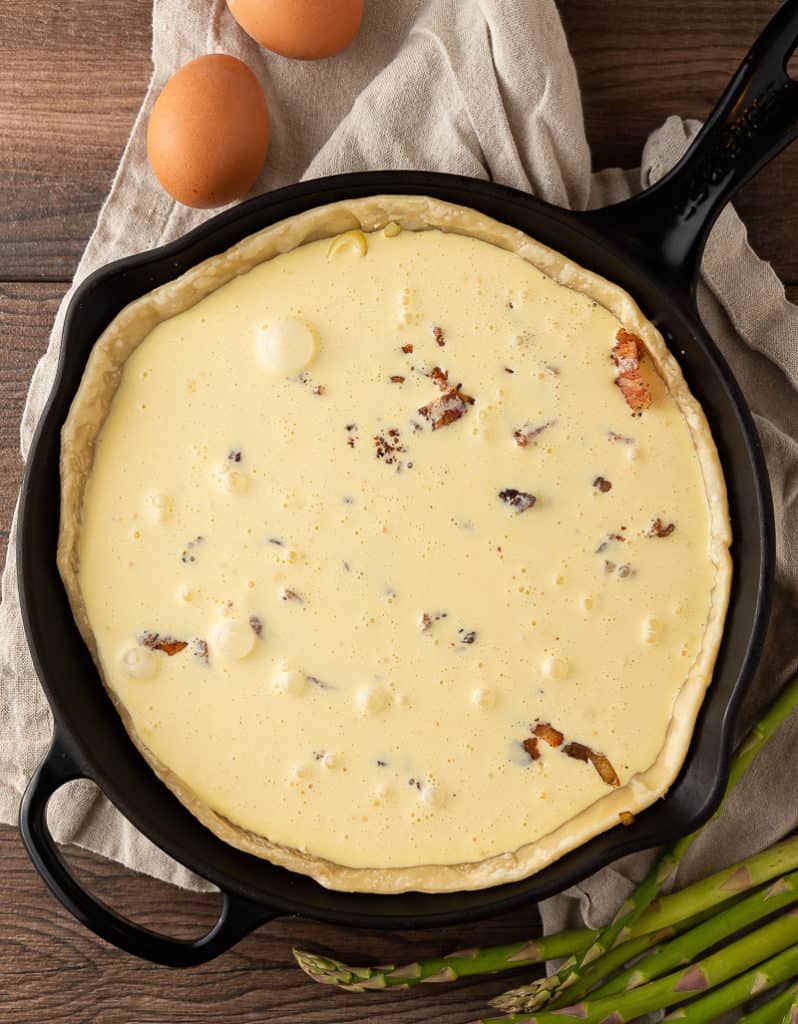 Do you cook bacon before putting it in quiche?
Yes! In fact, I like to OVER cook my bacon just a little bit to make sure that all the extra grease gets out ( and doesn't grease up my quiche). A bit of an overcook on your bacon also means your bacon still has some texture to it once cooked in the quiche.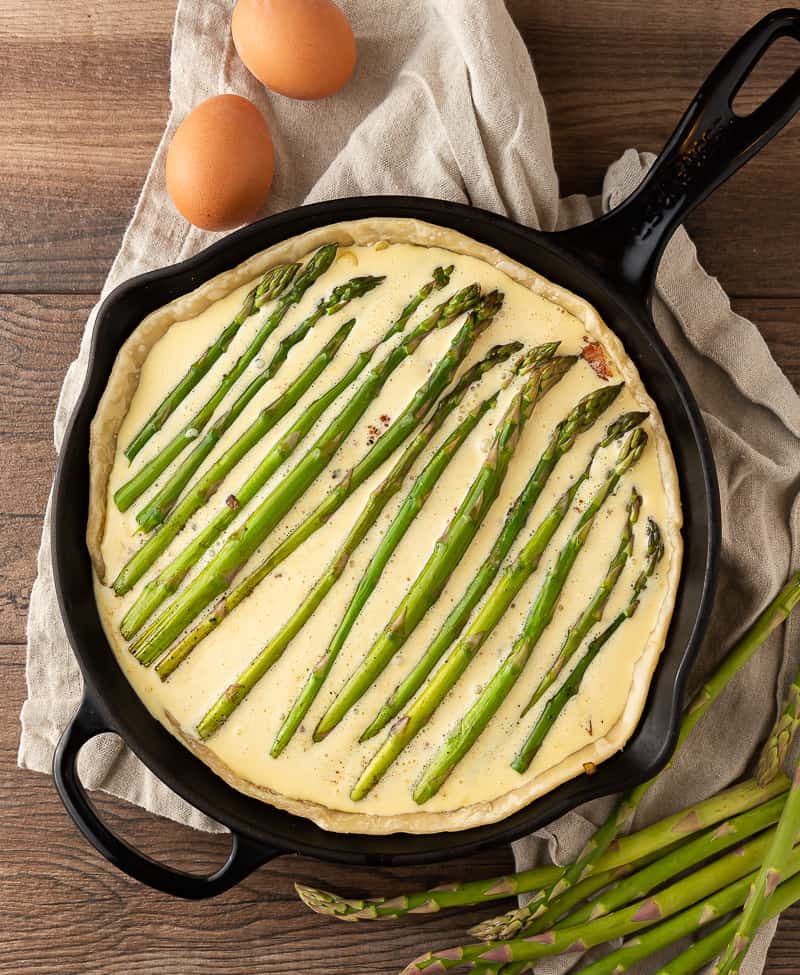 do you cook asparagus before putting it in quiche?
If you have very thin asparagus, you don't need to worry about cooking it first. For medium to large asparagus, give them a quick cook in a pan with some olive oil, salt, and pepper to take the edge off.
If you have those super jumbo asparagus, cut them in half before cooking in the pan, so you have asparagus semi moons.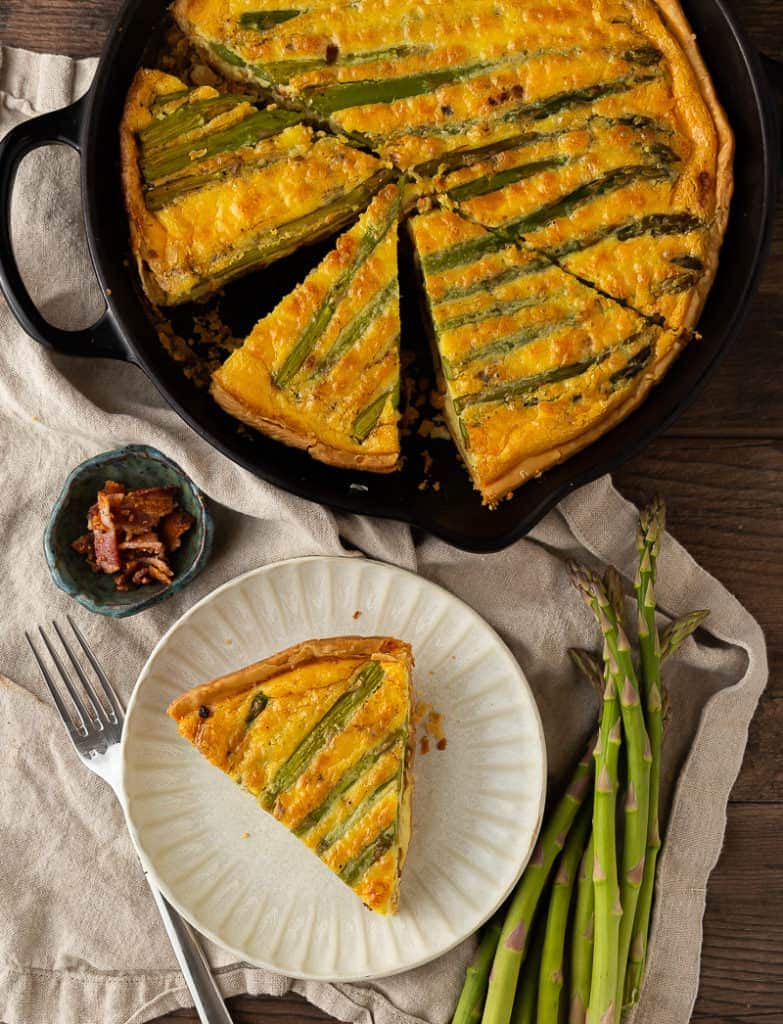 How to slice a quiche
I bring this up because if you dig an old dull knife into your beautiful quiche, it ain't gonna look pretty like the pictures.
And I want your quiche to look like mine.
Use a serrated knife to gently saw through the asparagus and cut a nice, even slice of quiche. Or, you can use a SUPER sharp carving knife (long, thin, super sharp blade.)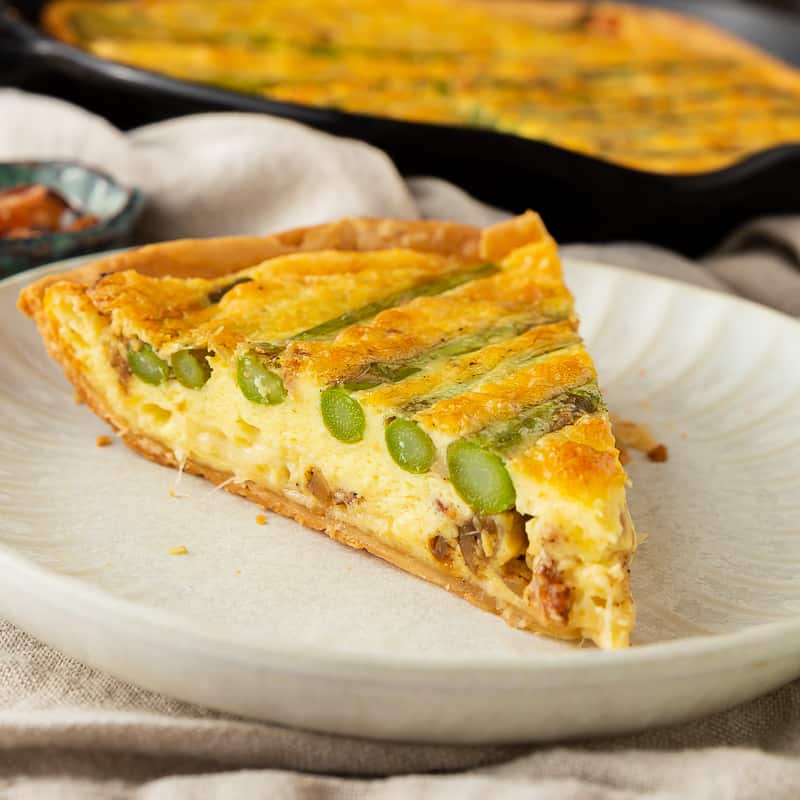 Other Easter Brunch Recipes:
Asparagus Quiche
This simple recipe makes a delicious showstopper of a meal. Perfect for brunch or dinner!
Print
Pin
Rate
Ingredients
premade pie crust

5

slices

bacon

½

cup

diced onion

20

thin asparagus spears

4

eggs

1.5

cups

heavy cream

2

T

flour

¼

teaspoon

freshly grated nutmeg

1.5

cups

gruyere
Instructions
Preheat oven to 400°F. Gently place a pie crust into a 9" deep pie pan or skillet.

Cover the entire crust with foil and fill with pie weights or dried beans to weigh the foil and crust down. Bake 10 min.

Cook the bacon in a skillet over medium heat until very crispy. ( The time will depend on your bacon but count on it taking at least 8 -14 minutes.) Remove the bacon and set it on paper towels to drain. Wipe the skillet of all but 1 Tablespoon of fat.

Cook the onion in 1 Tablespoon of the leftover bacon fat. Remove the onions from the pan.

If there is less than 1 teaspoon of bacon fat left in the pan after removing the onions, add a little bit of olive oil to make the total amount of fat in the pan add up to 1 teaspoon.

Cook the asparagus in the remaining bacon fat over medium heat for 2 minutes. Flip the asparagus spears, and then cook for 2 more minutes.

In a separate bowl, whisk together eggs, cream, flour, and nutmeg.

Sprinkle the cheese on the bottom of the par baked pie crust. Sprinkle the onions and bacon on top of the cheese. Pour in the egg mixture. Gently place asparagus spears on top

Bake 375° F for 30-40 min, or until a knife inserted into the custard about 1" from the crust comes out clean.