It's time to class up your college Cosmopolitan recipe and turn it into a beautiful, classy Aperol vodka cocktail that is modern, fresh, and SO over 2001. This Aperol cocktail is my favorite way to use Aperol in a drink!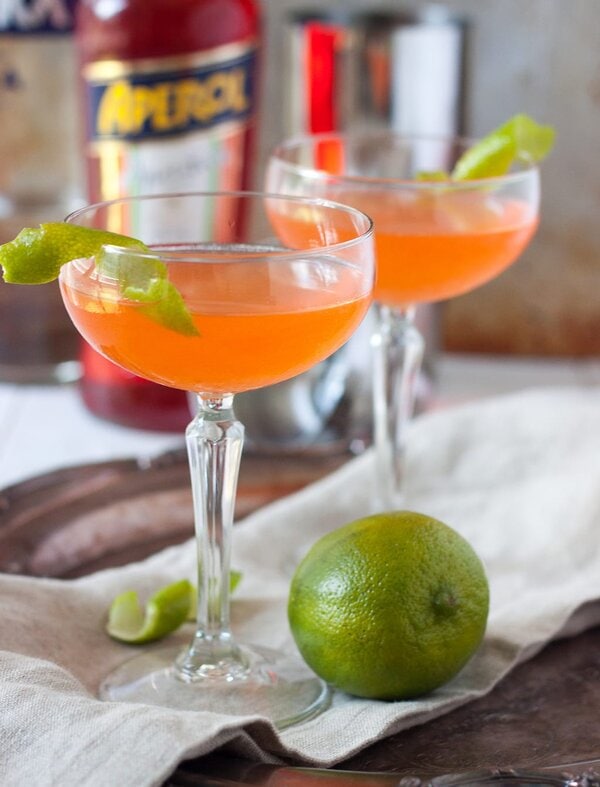 It's time to let that classic cranberry and vodka creation go and welcome a new friend into your adult cocktail repertoire. Save the cranberry juice for a Christmas punch, leave the triple sec on the bar, and for the love of all that is holy, put those Sex and the City style martini glasses back on the shelf ( but feel free to mock me when I use mine again in like four weeks. Really, I welcome it! ).
We're making a real, grown-up cocktail with Aperol and Vodka today.
You're going to love this Aperol cocktail because it's perfectly tart with just enough sweet to balance out the bitterness.
Inspired by a cocktail at one of my favorite bars in downtown Charleston, this updated Cosmopolitan doesn't have any of that pesky cranberry juice diluting it.
Its vibrant color comes from the Italian aperitivo Aperol, a bright-red bittersweet liqueur based on oranges and several herbs, that when combined with a bit of lime juice, gives the same tart bite that cranberry would usually give this drink.
Admit it - this cocktail with Aperol feels ( and tastes ) SO much more adult than the old fashioned version, doesn't it?!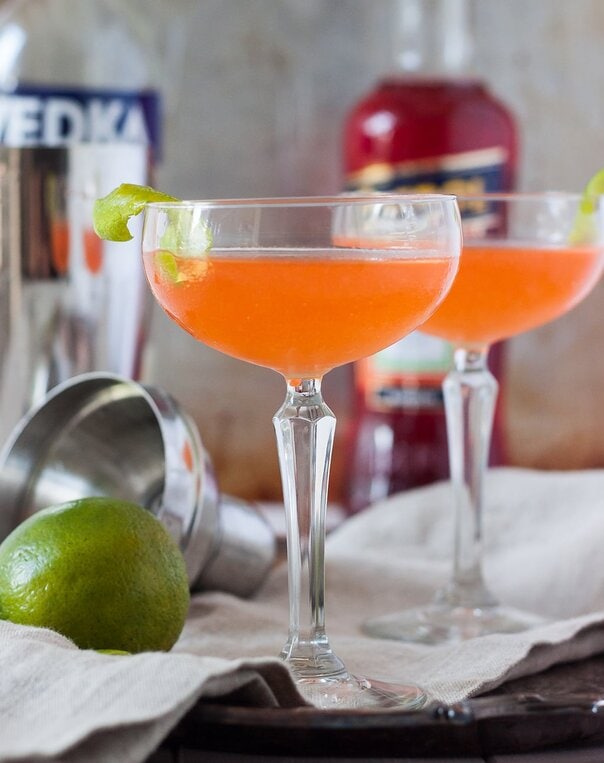 You can serve your Aperol Vodka Cocktail in anything you'd like, but I really love to serve them in my cocktail coupes ( the same that are in the pictures for this post ), because they give a sort of craft feel that really brings home that this is NOT the Cosmo you felt so adult ordering in the first bar you ever legally entered.
In fact, in my house, it is known that if a Cosmopolitan is asked for, this is the cocktail that should be made by my mixologist, aka husband, and that the cocktail coupe is the appropriate service receptacle.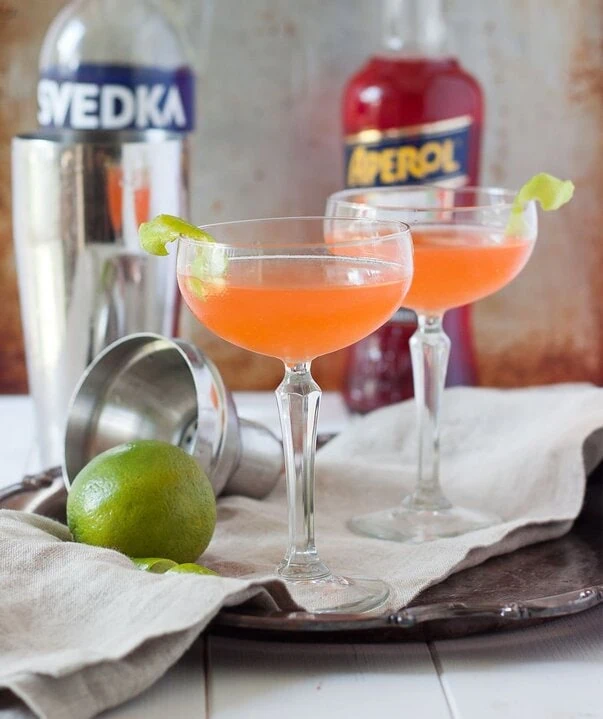 Looking for a batch cocktail for your next party? This recipe can easily be scaled up to serve a group, and will keep well for a few hours in the fridge before the citrus starts to lose its oomph.
If you like this Aperol cocktail recipe, you might also love:
Aperol Cosmopolitan Cocktail
A grown-up version of that 2001 one favorite: the Cosmopolitan, made with Aperol instead of Cranberry juice
Print
Pin
Rate
Ingredients
2

oz

vodka

1

oz

lime juice

½

oz

aperol

lime twist

for garnish
Instructions
Place all liquid ingredients in a cocktail shaker filled with ice. Shake vigorously. Strain into a cocktail coupe. Run the twist of lime around the rim of the glass, and drop in the cocktail.